10 Aug

ESSEX COUNTY EXECUTIVE DIVINCENZO ANNOUNCES PLANS TO MODERNIZE ESSEX COUNTY WEEQUAHIC PARK PLAYGROUND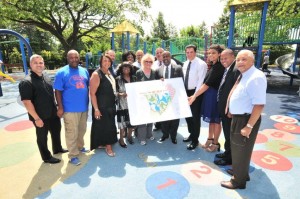 Newark, NJ – Essex County Executive Joseph N. DiVincenzo, Jr. announced the playground by Building 92 in Essex County Weequahic Park will receive a complete makeover with new equipment and a rubberized safety surface on Monday, August 10th. The upgrades are part of the County Executive's ongoing initiative to provide the safest and most modern recreation facilities for the Essex County residents.
"The playground in front of Building 92 in Weequahic Park is probably one of the most popular and heavily used recreation facilities in our Parks System. Children come to the site for recreation activities, after school enrichment, nutrition programs and more – there isn't a time of year when the playground is not in demand," DiVincenzo said. "Installing new equipment and a rubberized surface will ensure our facility meets current safety standards and will provide our children with much-needed opportunities to play," he noted.
"Weequahic Park is like my home, and I've probably used every aspect of it from playing football to running. This new playground and other plans that the County Executive has to improve facilities here will provide more people with even greater opportunities to come back again and again," Newark Mayor Ras Baraka said. "I am pleased to see all the upgrades being done. The County Executive does whatever he can to rebuild our parks and transform them into their full potential," he added.
Other elected officials and community members shared their anticipation for the new playground.
"Joe DiVincenzo has left his mark as being the one responsible for preserving the parks designed by the Olmsted brothers. That's important historically but also because more people rely on our parks for recreation than ever before," Assemblywoman Sheila Oliver said. "Weequahic Park has been part of many people's families for quite some time. We are pleased to be presenting upgrades so that it can continue to accommodate the public and be there for new memories to be created," Essex County Deputy Chief of Staff William Payne said.
"I can't wait to see how many more children will be attracted to come here when the new facility is completed. This is a testament to the vision of County Executive DiVincenzo and his commitment to help the community," Freeholder President Britnee Timberlake said. Freeholder Lebby Jones said she walks in Weequahic Park almost every morning and "is happy to see what is being done to improve our parks."
"I reared my children in and came to this park at least three days a week. With all the changes planned, I look forward to bringing my grandchildren," Newark City Council President Mildred Crump said. "It's a pleasure to work with our County Executive to update our parks and facilities. We look forward to anything that the county does," Newark Councilman John James said.
Doug Freeman, President of the Weequahic Park Sports Authority, said the new playground will be well-utilized by the community and credited the partnership between the County, City and community for creating new recreation opportunities in the park. Wilbur McNeil, President of the Weequahic Park Association, said he "welcomes the upgrades to the playground."
Located in front of Building 92, the playground received its last facelift in 2006 when its nautical theme was introduced to connect it with the Weequahic Park Lake. The playground has become a focal point of the park and its popularity has resulted in wear and tear on the equipment and rubberized safety surface.
The new playground will feature age-appropriate equipment for children ages 2-5 years old and 5-12 years old. For the younger children, there will be a concrete treehouse structure in which to climb, animal figures, slides and telescopes. For the older children there will be another concrete treehouse, bridges, telescopes and animal figures. There will be eight swings in the new playground, which is more than there were before. All of the playground equipment will be handicap accessible. The rubberized safety surface will be designed to resemble a wave of water to continue the themed connection to the park lake. The spray park and chess board surface incorporated in the last renovation will remain and be upgraded. Additional seating for parents will be placed in areas around the playground. The playground will be encircled by a fence to ensure children's safety. Landscaping and irrigation around the outside of the playground will be added.
French & Perrello Associates from Wall Township received a $55,012 contract to design the new playground. Picerno-Giordano Construction from Kenilworth was awarded a publicly bid contract for $899,055 to perform the construction work. The Essex County Department of Public Works will monitor the project to answer questions and ensure delays are avoided. The playground is being funded with grants from the NJ Green Acres Program and the Essex County Recreation and Open Space Trust Fund. It is scheduled to reopen in the spring of 2016.
Revitalizing Essex County Weequahic Park
In 2012, the four entrances to Weequahic Park received a facelift with traffic islands, lighting, paving and landscaping to beautify the area and enhance pedestrian and traffic safety, and the basketball courts were named in honor of the late Delano Gordon, founder of Above the Rim. Essex County partnered with the National Football League to install a new half-mile fitness course with six exercise stations in 2010. Weequahic Golf Course received a major overhaul in 2009 as part of $7 million modernization project in each of the County's three public golf courses and the Weequahic Bridge was reconstructed for $3 million. A synthetic grass surface baseball field and four basketball courts were developed as part of a $1.8 million project in 2007. Essex County welcomed The First Tee and its nationally-recognized youth leadership training program to Weequahic Golf Course in 2006. The First Tee constructed a state-of-the-art, three-hole youth golf facility for its program adjacent to the golf course. The playgrounds at Building 92 near Meeker Street and Building 96 at the Chancellor Avenue entrance to the park were modernized with new equipment and rubberized safety surfaces in 2006. The tennis courts on Elizabeth Avenue were rebuilt in 2004.
DiVincenzo has partnered with the New Jersey Green Acres program, the NJ Department of Transportation, the Essex County Parks Foundation, Essex County Recreation and Open Space Trust Fund Advisory Board and The First Tee to secure grants to fund the improvements in Essex County Weequahic Park.
The Essex County Park System was created in 1895 and is the first county park system in the United States. It has been expanded to include about 6,000 acres of land and includes 20 parks, five reservations, an environmental center, a zoo, ice skating rink, roller skating rink, three public golf courses, golf driving range, miniature golf course, three dog parks, a castle, Treetop Adventure Course and the Presby Memorial Iris Gardens. Weequahic Park is 311.33 acres, is one of the original five County parks created in 1895 and is the second largest park in the Essex County System.
Contact:
Anthony Puglisi
973-621-2542
Lauren Shears
973-621-1590