13 May

ESSEX COUNTY EXECUTIVE DIVINCENZO ANNOUNCES PLANS TO DEVELOP THE 77-ACRE ESSEX COUNTY CEDAR GROVE PARK Major Feature will be the Essex County Robert J. O'Toole Community Center, Named for the Retired Cedar Grove Mayor and Councilman Robert J. O'Toole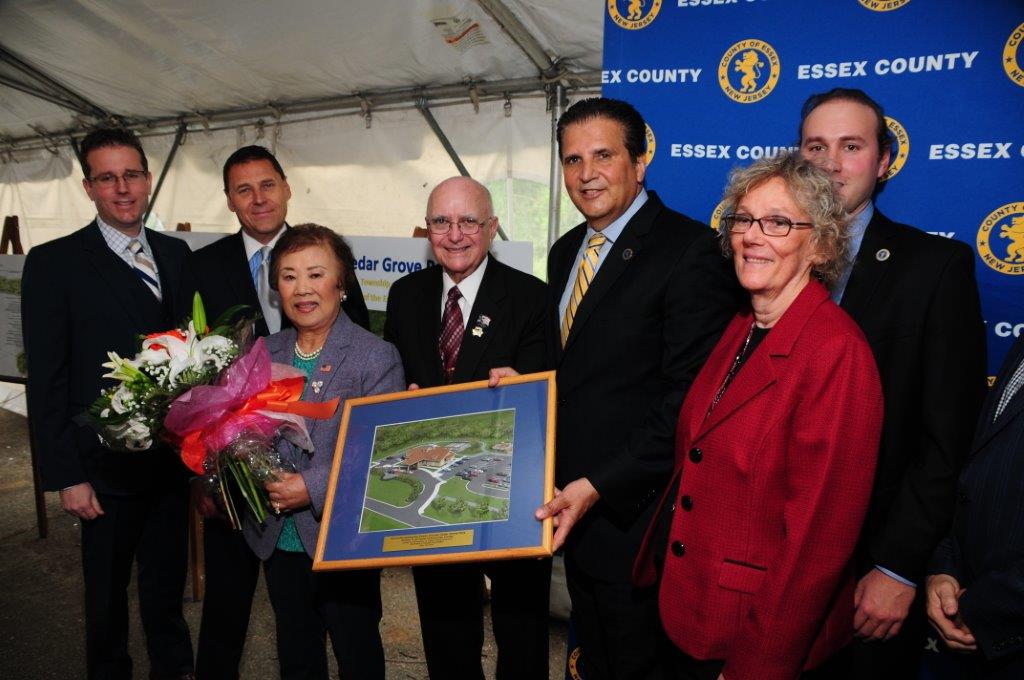 Cedar Grove, NJ – Essex County Executive Joseph N. DiVincenzo, Jr. outlined plans for the new 77-acre Essex County Cedar Grove Park on Fairview Avenue in Cedar Grove on Friday, May 13th. Located on the site of the old Essex County Hospital Center, the park will be the first county park in Cedar Grove and will be the fourth largest in the Essex County Parks System.
"Preservation of this land for passive recreation and a community center fulfills a promise we made in 2007 to minimize development on the old hospital complex. Essex County is one of the most densely populated counties on the East Coast and creating 77 acres of open space will maintain the suburban character of Cedar Grove, provide additional recreation opportunities and enhance residents' quality of life," DiVincenzo said. "One of the main features of the Park will be the Essex County Robert J. O'Toole Community Center, named for retired Mayor and Councilman Robert J. O'Toole. Mr. O'Toole has served his community for half a century and was a staunch advocate for limiting development on the property. We can think of no more appropriate person after whom to name the building," he added.
"I am really humbled and honored by all this. I want to thank the County Executive for his promise of creating a new park in Cedar Grove and for following through to ensure it happens. This is a great honor," Robert O'Toole said.
"My family and I are deeply honored to have the new community center in Cedar Grove named after our father, Robert O'Toole. Ever since moving his young family to Cedar Grove in 1962, my father has devoted his life to service to our town. We are deeply proud that his contributions to our beloved hometown will forever be immortalized on our new community center," said Senator O'Toole.
The new Essex County Cedar Grove Park will be 77 acres of open space situated along Fairview Avenue in Cedar Grove. There will be about two miles of walking paths through the park with historic lighting, benches and trash receptacles. The 15,000-square-foot Essex County Robert J. O'Toole Community Center, named for the retired Cedar Grove Mayor and Councilman Robert J. O'Toole, will be located on the eastern side of Fairview Avenue. The building will have a covered portico in front and a covered patio in the back. It is envisioned that the building will house a daily congregate meal program offered by the Essex County Division of Senior Citizens as well as be available for other community organizations to hold meetings and special events. In the rear of the building will be four bocce courts and a playground designed with a farming theme to connect to the history of the Essex County Hospital Center when there was a farm on the site to support the hospital.
Elected officials spoke highly of Mr. O'Toole and the lifetime of public service he provided to Cedar Grove and how the new park will become a resource for the township.
"You can see the great example of serving the community that Mr. O'Toole instilled in his family," NJ State Senator and Deputy Chief of Staff Teresa Ruiz said. "The 77-acre park preserves critical open space in a suburban neighborhood," she pointed out.
"This is a great and well-deserved tribute to Mr. O'Toole, who has been a great civic leader in Cedar Grove for many years," Assembly Speaker Sheila Oliver said. "Preserving this land as open space will benefit generations to come," she added about the new park.
"The preservation of open space is important to an area as developed as Essex County and Cedar Grove. We hope that individuals and families come here and enjoy this park," Assemblyman Thomas Giblin said. "I also want to pay my respects to Robert O'Toole. When you look at him and his family, and their contributions to their township, county and state, naming this building after him is a fitting honor," he added.
"It is with pride and pleasure that the Board of Freeholders partners with the County Executive on projects such as this. The creation of open space and protecting the environment are important issues and this park is an example of different levels of government working together for the betterment of the community," said Freeholder Vice President Brendan Gill, who was joined by fellow Freeholders Patricia Sebold and Leonard Luciano.
"Our Essex County parks have become sanctuaries. They are important because people need tranquil places where they can escape and relax," Sheriff Armando Fontoura said. "Mr. O'Toole has served his country honorably in the military and through his community service to the township and the county," he noted.
"Mr. O'Toole has truly left his mark on our community and his name certainly has become synonymous with community service," Cedar Grove Mayor Joseph Chiusolo said. "This community center will become the pulse of Cedar Grove and it is a well-deserved honor for Mr. O'Toole," added the Mayor, who was joined by Cedar Grove Councilmen Romeo Longo, Peter Tanella and Harry Kumburis.
Mr. O'Toole served three terms as Mayor of Cedar Grove and three terms as Deputy Mayor during his 12 years on the Municipal Council. He retired from public office in 2015 after deciding not to seek re-election after serving three terms. One of his platform issues was preserving what was known as "Parcel 5" of the old Essex County Hospital Center on Fairview Avenue as open space. He worked diligently against the overdevelopment of Cedar Grove, to preserve as much of the hospital tract as open space. He also was a proponent of reducing local property taxes while providing quality services to keep Cedar Grove as an attractive and affordable place to reside; and promoting quality of life ordinances, including the creation of an "Animal House" ordinance to hold landlords responsible for rowdy tenants.
Mr. O'Toole also has a lengthy resume of public service to the Township, working as a member of the Cedar Grove Volunteer Fire Department for 45 years, establishing and serving as a founding member on the Peckman River Regional Control Board to address flooding along the Peckman River; and serving on the Cedar Grove Historical Society, Board of Education, Senior Citizen Club and Planning Board, volunteering as a coach for Little League football and baseball teams, and being involved with St. Catherine of Siena Church, its school and its annual Carnival. He enlisted twice in the U.S. Army and served in Korea, and is a member of the Korean War Veterans Association and American Legion.
The land which was the last remaining parcel from the old Essex County Hospital Center complex was slated to be sold to a private developer, but in 2008 the County Executive and the Board of Chosen Freeholders initiated a change in policy and decided to preserve the land as open space. A lengthy lawsuit involving the developer, the County and the Township was resolved in 2015 when a compromise was reached.
The engineering firm of CME Associates from Parlin received a $650,000 contract to design the new park. JC Landscape Construction from Pequannock was awarded a publicly bid contract for $11.05 million to perform the construction work. The Essex County Department of Public Works will monitor the project and answer questions so that delays can be avoided. The project is being funded with a $5 million grant from the NJ Green Acres program, a grant from the Essex County Recreation and Open Space Trust Fund and the Essex County Capital Improvement Budget. It is scheduled to be completed by January 2017.
Essex County Cedar Grove Park is the fifth new park to be added to the Essex County Park System since 2007. The 11-acre Essex County Kip's Castle Park in Montclair and Verona was preserved in 2007, the 10-acre Presby Memorial Iris Gardens was preserved in 2009, the 2.7-acre Essex County Veterans Memorial Park in the Essex County Government Complex in Newark was opened in 2009 and the 12.3-acre Essex County Riverfront Park was created in 2012.
The Essex County Park System was created in 1895 and is the first county park system established in the United States. The Park System consists of more than 6,000 acres and has 23 parks, five reservations, an environmental center, a zoo, Treetop Adventure Course, ice skating rink, roller skating rink, three public golf courses, golf driving range, two miniature golf courses, three off-leash dog facilities, a castle and the Presby Memorial Iris Gardens.