27 Apr

ESSEX COUNTY EXECUTIVE DIVINCENZO ANNOUNCES PLANS TO DEVELOP OFF-LEASH DOG FACILITY IN ESSEX COUNTY HILLTOP RESERVATION Hilltop Dog Park will be the Fourth Dog Park in the Essex County Parks System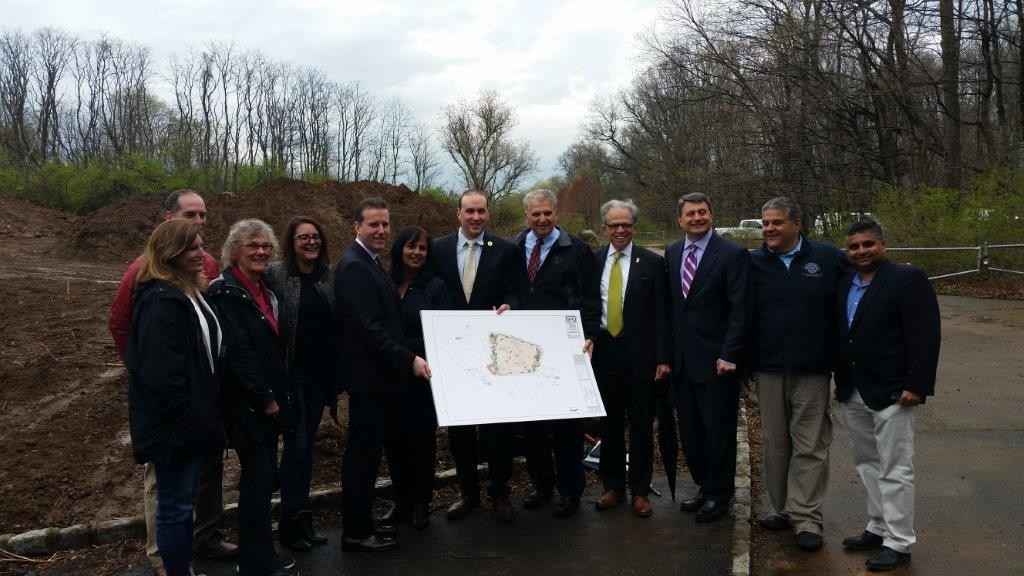 North Caldwell, NJ – Essex County Executive Joseph N. DiVincenzo, Jr. announced that a new Off-Leash Dog Park is being developed in the Hilltop Reservation in North Caldwell on Friday, April 27th. This will be the fourth dog park in the Essex County Parks System.
"In the fall of 2017, we met with officials from North Caldwell and listened to their request for an Off-Leash Dog Facility in West Essex. Its creation is an example of how Essex County works with its 22 municipalities to enhance our residents' quality of life and ensure the County's open spaces continue to meet the needs of the community," DiVincenzo said. "The public looks to the Essex County Parks System for recreation opportunities, and this includes pet parents wanting places where their canines can run and play without being on a leash," he added.
"The Freeholder Board is proud to work with the County Executive on projects that create places for people to recreate and gather. If you don't have a pet, you really don't appreciate what having a dog park means," Freeholder President Brendan Gill said. "This is a wonderful project that enhances the quality of life for our residents, and provides them with another opportunity to enjoy Hilltop Reservation," Freeholder Patricia Sebold said. "We take quality of life issues and the need for top-notch facilities very seriously. The dog parks can play a vital role in the lives of families and their pets," Freeholder Len Luciano said.
"We appreciate the many wonderful things the County Executive and Freeholders have done in North Caldwell," Mayor Joseph Alessi said. "This is an ideal location for a dog park because it is within walking distance of four municipalities. It really is being done for the residents of Essex County," Council President Cynthia Santomauro said. "I really can't get over how quickly the County Executive gets things done. This is a perfect example of a project people of all ages can enjoy," Councilman John Chiaia said.
The Hilltop Dog Park will be slightly less than 35,000 square feet in size and will be divided so there are separate areas for small and large dogs. The small dog area will be about one-quarter of an acre; the large dog area will be about one-half an acre. The entrance will have a decorative gate, brick paved pathway, information kiosk and new landscaping. Inside the park will be apparatus on which canines can play, benches for their pet parents to site, water fountains for owners and their dogs, garbage cans and receptacles for dog bags. The entire area will be fenced to prevent dogs from running away. Landscaping will be added to the area, trees will be pruned and dead trees removed. Access to the Hilltop Dog Park is via the North Caldwell municipal parking lot on Courter Lane off of Mountain Avenue.
The Hilltop Dog Park will be the fourth dog park in the Essex County Parks System. The Watsessing Dog Park in Bloomfield/East Orange opened in 2005. The South Mountain Dog Park in Maplewood/Millburn opened in 2006. The Brookdale Dog Park in Bloomfield/Montclair opened in 2007. Every October, Essex County hosts popular Canine Costume Parades and Contests at the Brookdale and South Mountain Dog Parks.
Remington and Vernick from Secaucus was awarded a $34,200 professional services contract to design the dog park. Zenith Construction from East Orange was awarded a publicly-bid contract for $724,320 to perform the construction. The Essex County Department of Public Works will monitor the project to answer questions and ensure delays are avoided. Funding is being provided through the Essex County Recreation and Open Space Trust Fund. Construction started in early April and is scheduled to be completed this summer.
The Essex County Park System was created in 1895 and is the first county park system established in the United States. The Park System consists of more than 6,000 acres and has 23 parks, five reservations, an environmental center, a zoo, Treetop Adventure Course, ice skating rink, roller skating rink, three public golf courses, golf driving range, two miniature golf courses, three off-leash dog facilities, a castle and the Presby Memorial Iris Gardens. The Hilltop Reservation is about 240 acres and straddles the borders of Cedar Grove, Verona and the Caldwells.