10 Feb

ESSEX COUNTY EXECUTIVE DIVINCENZO ANNOUNCES OPENING OF SEA TURTLE RECOVERY CENTER AT ESSEX COUNTY TURTLE BACK ZOO Facility will Help Save and Rehabilitate Zoo's Namesake Animals and Enhance Animal Protection Initiatives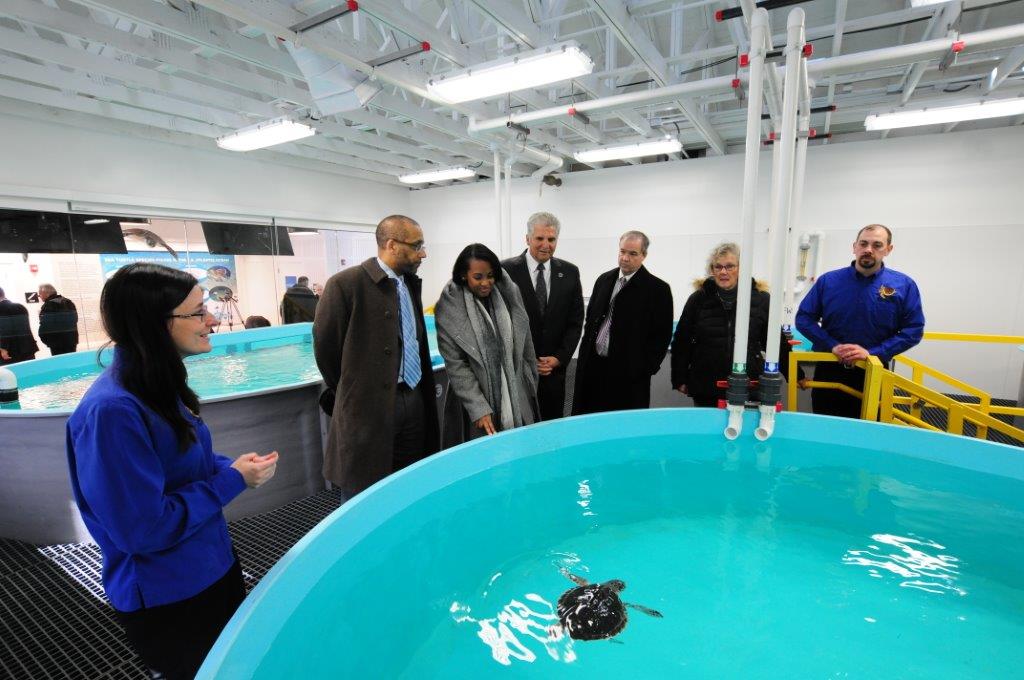 West Orange, NJ – Essex County Executive Joseph N. DiVincenzo, Jr. announced the opening of the Prudential Sea Turtle Recovery Center at Essex County Turtle Back Zoo on Friday, February 10th. The County is partnering with the non-profit Sea Turtle Recovery to operate the facility, which will nurse cold-stunned or injured turtles back to health so they can be released back into the ocean.
"The Sea Turtle Recovery expands our preservation and education programs and will heighten our visitors' awareness about protecting animals and the environment," DiVincenzo said. "To be able to develop a Sea Turtle Rescue center here in Essex County and help the very animals after which our zoo is named is a great resource to the animal rescue community and fills a great need. It's a great example of how zoos and animal rescue organizations can work together to save animals and raise the public's awareness about the dangers animals face," he added.
"This is a marvelous addition to Turtle Back Zoo and is an example of the County Executive's commitment to make this place successful," Freeholder Patricia Sebold said.
As water temperatures drop this time of year in the Northeast (Virginia to Maine), especially in Cape Cod and Long Island, biologists and volunteers prepare for an average of over 570 sea turtles that are stunned by the cold, a reaction that can lead to frostbite, malnutrition, dehydration, shock, pneumonia and possibly death. In addition, sea turtles in the Atlantic Ocean are threatened by fishing line entanglement, plastic ingestion, boat strikes, and loss of natural nesting and feeding sites because of coastal development.
In 2014, more than 700 live sea turtles washed ashore in the Northeast. The facility at Turtle Back Zoo joins eight other facilities in the region that have the capacity to care for cold stunned or injured sea turtles.
At Essex County Turtle Back Zoo, an antiquated building was torn down and replaced with a modern 4,000-square-foot facility. The new building has five recovery tanks, life support systems, and an intensive care unit for more critically injured turtles. Zoo visitors will be able to see less critical patients while learning about the perils sea turtles face and what the public can do to help. Once the turtles have regained their health, they will be released back into their natural habitat.
"Turtle Back Zoo already is a special place where children and families can learn to appreciate animals. Introducing the Sea Turtle Recovery Center helps take our educational programming to the next level and gives us an active role in protecting and preserving wild animals," Turtle Back Zoo Director Brint Spencer said. "Having the rehabilitation center on site fits into our mission of conservation and expands the potential for animal awareness," he noted.
"Turtle Back already is recognized as a great resource for education and recreation. Today is a celebration because now we are going beyond our gates and getting in conservation efforts to save Turtles," said Adam Kerins, Executive Director of the Zoological Society of New Jersey.
The Zoo is partnering with The Sea Turtle Recovery, a non-profit organization based in Northfield, N.J. The Sea Turtle Recovery is dedicated to the rehabilitation, preservation and conservation of sea turtles. Its current work extends throughout the state educating the public about the ecological role of sea turtles, threats they face, and ways to protect their future. With the opening of the recovery center at Turtle Back Zoo, The Sea Turtle Recovery can begin to fulfill the other portion of its mission, which is to rehabilitate sea turtles for release back into the wild. More about the Sea Turtle Recovery can be found by visiting www.seaturtlerecovery.org.
"For over six years, I helped transport Sea Turtles that needed surgery or long term treatments as far as North Carolina to receive care," said Brandi Biehl, Co-Executive Officer of The Sea Turtle Recovery organization. "Now, thanks to support from Essex County and the public, we can treat sea turtles right here in the state and provide assistance to other facilities in the Northeast that become overcrowded," she added.
Comito Associates from Newark was awarded a $175,000 contract to design the sea turtle facility. Daskal Construction from Wallington was awarded a publicly bid contract for $1,979,800 to construct the exhibit. The Essex County Department of Public Works monitored the project to avoid delays.
Prudential Financial provided $300,000 through a grant and corporate contribution to help bring the Sea Turtle Recovery Center to life. Prudential was founded in Newark, New Jersey more than 140 years ago and its commitment to New Jersey is seen throughout the state. Additional funding came from contributions by Horizon Blue Cross Blue Shield of New Jersey, PSE&G and the Matrix Development Group and from the Essex County Capital Improvement Budget. Construction started in June and was completed in early December. The first turtles arrived in the building on December 29th.
"We are pleased to support this one-of-a-kind facility in New Jersey. We want to thank the County Executive for making sure the public has access to beautiful treasures like the zoo," said Shane' Harris, Executive Director of the Prudential Foundation.
"Supporting a facility like this is part of PSE&G's commitment to the environment. And we are pleased to be part of this new program that fulfills the County Executive's vision for the zoo," said Rick Thigpen, Vice President of State Government Affairs for PES&G, said.
"This all started with one lunch and tour of the zoo," said Joseph Taylor of Matrix Development. "We build things, but no one is a better building that Joe DiVincenzo. We are thrilled to be part of this conservation effort and give back," he added.
Essex County Turtle Back Zoo has roared back to life from the verge of closure by a previous administration. Attendance reached an all-time high of 755,239 in 2015 and the zoo has operated as a self-sustaining facility with revenue collected exceeding operating expenses for the last eight years. In addition, Turtle Back earned its third five-year accreditation from the Association of Zoos and Aquariums in 2016, a clear indication that an institution is committed to the highest standards in animal care, ethics, conservation and education. It also has been named the Best Zoo in New Jersey by NJ Monthly magazine four times and three times has received a Certificate of Excellence from TripAdvisor.com.
During the winter, the Zoo is open seven days a week from 10 a.m. to 3:30 p.m. Admission is $12 for adults, $10 for children and senior citizens, and free for children younger than 2 years. For more information, call 973-731-5800 or visit www.essexcountynj.org/turtlebackzoo.
Revitalizing Essex County Turtle Back Zoo
 Since taking office in 2003, DiVincenzo has spearheaded over $75 million in upgrades to Essex County Turtle Back Zoo, which have included developing the African Adventure with four Masai giraffes; a new Educational Building; the Carousel with 33 figures of endangered animals; the Sea Lion Sound Exhibit with sea lions, sharks and sting rays; the Big Cat Country Exhibit with jaguars and cougars; Tam-ring Gibbons Reserve with white cheeked gibbons apes, Reeves muntjac and white naped cranes; Australian Exhibit that features kangaroos, wallabies, emus and over 500 birds in the Aviary; Reptile and Education Center, open air dining pavilion and playground, Penguin Exhibit, Otter Exhibit, Wolf Exhibit, Alligator Exhibit, North American Animal Exhibit, Black Bear Exhibit, Animal Hospital, Essex Farm Petting Zoo and South American Animal Exhibit; renovating the Food Pavilion for year-round use and making upgrades to the entrance as well as fencing and infrastructure to meet AZA requirements. Funding has been provided through Green Acres grants, existing capital improvement bonds, or donations from the Zoological Society, Essex County Parks Foundation, corporations or private foundations. Corporations that have provided support include Investors Bank, Prudential Financial, Inc., Wells Fargo, PNC Bank, PSE&G, Verizon, Horizon Blue Cross Blue Shield of New Jersey, Coca Cola, Capital One Bank, TD Bank, Aramark, Covanta Energy, Matrix Development Group and OxyMagic carpet cleaning.
The Essex County Park System was created in 1895 and is the first county park system established in the United States. The Park System consists of more than 6,000 acres and has 22 parks, five reservations, an environmental center, a zoo, Treetop Adventure Course, ice skating rink, roller skating rink, three public golf courses, golf driving range, two miniature golf courses, three off-leash dog facilities, a castle and the Presby Memorial Iris Gardens. Turtle Back Zoo is located in Essex County's South Mountain Reservation and was opened to the public in 1963.