16 Apr

ESSEX COUNTY EXECUTIVE DIVINCENZO ANNOUNCES OPENING OF NEW ENTRANCE AND TRAIN MAINTENANCE BUILDING AT ESSEX COUNTY TURTLE BACK ZOO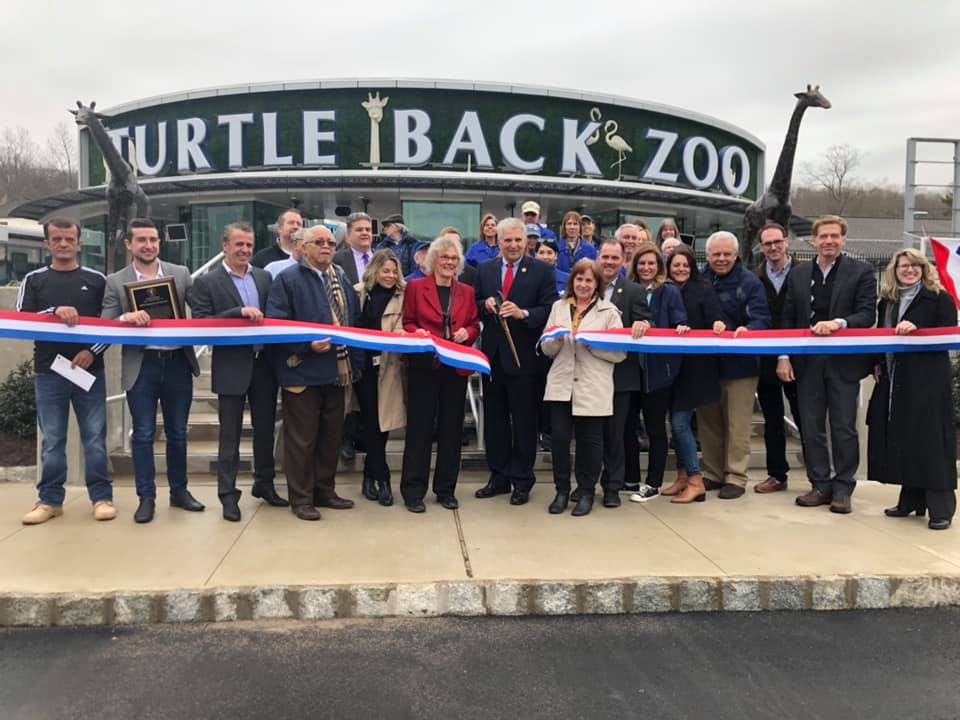 West Orange, NJ – Essex County Executive Joseph N. DiVincenzo, Jr. announced that the projects to modernize the public entrance and construct a new train maintenance building at Essex County Turtle Back Zoo have been completed. The two projects total about $8.6 million of improvements and represent our ongoing commitment to revitalize Turtle Back and ensure it remains an attractive destination for children and families.
"We are always looking for way to improve the experience our visitors have at Turtle Back. With the number of people increasing steadily each year, we wanted to reduce the wait time by creating additional admission points and enhance pedestrian safety by eliminating the lines that reached into the parking lot. Our new entrance accomplishes that as well as providing a dynamic statement about Turtle Back," DiVincenzo said. "Our miniature train ride has been a favorite for generations, and the new maintenance building will improve operations and make it easier for us to maintain the ride," he added.
"I came to Turtle Back Zoo when I was a child and now I have the opportunity to bring my children and see how excited they become. They look forward to seeing something new every time they come. It is exciting to see how government can positive impact the quality of life for residents," Assemblywoman Eliana Pintor Marin said.
"I can't believe how successful Turtle Back Zoo has become and that it attracts visitors from all over. I applaud County Executive DiVincenzo for making the zoo a destination attraction," Freeholder Patricia Sebold said. "Turtle Back Zoo is a phenomenal place. Constantly improving the grounds is important to helping the zoo grow," Freeholder Carlos Pomares said.
"Whenever someone goes on vacation or visits someplace, one of the things they remember the most is the entrance. Opening this new entrance is exciting because it really puts Turtle Back Zoo on the map," Turtle Back Zoo Director Michael Kerr said. "These improvements help us provide a positive experience for our visitors," he added.
"This is yet another milestone to celebrate at Turtle Back Zoo. I want to thank the County Executive for helping the Zoo fulfill its potential," Zoological Society of New Jersey Executive Director Adam Kerins said.
 An Expanded Entrance
The popularity of Turtle Back Zoo has attracted hundreds of thousands of visitors annually and helped establish new annual attendance records in 14 of the last 15 years. Attendance reached an all-time high of 907,522 in 2017. The four admission points at the main entrance were no longer able to accommodate the record number of visitors and resulted in lines of patrons extending into the parking lot.
The update of the entrance maintained the two iconic castle-like towers, however the admission booths and roofline above the booths were removed. Five new stand-alone booths – which increases the number of admission lines to 13 – were erected in a semi-circle in front of the towers. To the left of the entranceway, new offices to provide expanded accommodations for group sales and group check-in was constructed.
The brick patio in front of the towers, where visitors typically line up while waiting to enter Turtle Back, was enlarged and extended into the parking area. The increased space enhances pedestrian safety because, instead of the lines extending into the parking area, there is now sufficient room for patrons to gather on the patio. As a result of the enlarged entrance patio, motorists will make a slight right turn when entering the surface parking area in front of the zoo.
A digital message board to promote events, animal education programs and other activities was installed near the entrance. The area is being extensively landscaped, there are benches for seating, and the patio is accented with brick pavers.
Comito Associates from Newark was awarded a $295,000 contract to design the new entrance. The John O'Hara Company, Inc. from East Orange was awarded a publicly bid contract for $5,324,000 to perform the construction work. The Essex County Department of Public Works monitored the project to answer questions and ensure delays were avoided. The improvements were funded through the Essex County Capital Budget and with a grant from the NJ Green Acres program. Work started in September 2018 and was completed in seven months.
A Modernized Train Maintenance Building
When plans were created to build a third parking deck at the complex, it became necessary to relocate a section of the path of the miniature train ride and construct a new train maintenance building. The new building provides a more efficient environment to work on the train engines and cars when they need to be repaired or require routine maintenance. A below-ground mechanics well allows employees to work underneath the train with the engine being lifted or removed and transported to another site. This feature will reduce the amount of time it takes to repair an engine and keep the trains running on schedule.
The exterior of the train maintenance building was designed to resemble the streetscape of an old western town. The mural features pictures of a sheriff's office, feed store, stable and doctor's office. One of the buildings is named as the Errington Tool building in honor of the Ralph Errington Charitable Foundation which contributed a major donation to fund the new train building. Passengers will continue to board the train at its current station.
Comito Associates from Newark received a professional services contract for $498,725 to design the train upgrades (It also includes the design of the new parking deck currently under construction). APS Construction from Paterson was awarded a publicly bid contract for $2,590,000 to build the train facility. The Essex County Department of Public Works monitored the project to ensure delays were avoided. The upgrades were funding with the donation from the Errington Foundation and grants from the Zoological Society of New Jersey and the Essex County Recreation and Open Space Trust Fund. Work started in October 2018 and was completed in six months.
Essex County Turtle Back Zoo has roared back to life from the verge of closure by a previous administration. Attendance reached an all-time high of 907,522 in 2017 and the zoo has operated as a self-sustaining facility with revenue collected exceeding operating expenses for the last eleven years. In addition, Turtle Back is accredited by American Humane, the Association of Zoos and Aquariums and the Zoological Association of American, a clear indication that an institution is committed to the highest standards in animal care, ethics, conservation and education. It also has been named the Best Zoo in New Jersey by NJ Monthly magazine four times and received a Certificate of Excellence from TripAdvisor.com three times.
The Zoo is open seven days a week from 10 a.m. to 3:30 p.m. Current winter admission is $12 for adults, $10 for children and senior citizens, and free for children younger than 2 years. For more information, visit www.essexcountynj.org/turtlebackzoo or call 973-731-5800.
Revitalizing Essex County Turtle Back Zoo
 Currently under construction is a new parking deck to accommodate about 500 vehicles. This will create additional on-site parking and reduce traffic congestion in the area.
Since taking office in 2003, DiVincenzo has spearheaded over $75 million in upgrades to Essex County Turtle Back Zoo, which have included developing the African Adventure with four Masai giraffes, lions and hyenas, and South African Penguins; the Drill Family Flamingo Exhibit; Leopard Exhibit; a new Educational Building; the Carousel with 33 figures of endangered animals; the Sea Lion Sound Exhibit with sea lions, sharks and sting rays; the Big Cat Country Exhibit with jaguars and cougars; Tam-ring Gibbons Reserve with white cheeked gibbons apes, Reeves muntjac and white naped cranes; Australian Exhibit that features kangaroos, wallabies, emus and over 500 birds in the Aviary; Reptile and Education Center, open air dining pavilion and playground, Penguin Exhibit, Otter Exhibit, Wolf Exhibit, Alligator Exhibit, North American Animal Exhibit, Black Bear Exhibit, Animal Hospital, Essex Farm Petting Zoo and South American Animal Exhibit; renovating the Food Pavilion for year-round use and making upgrades to the entrance as well as fencing and infrastructure to meet AZA requirements. Funding has been provided through Green Acres grants, existing capital improvement bonds, or donations from the Zoological Society, Essex County Parks Foundation, corporations or private foundations. Corporations that have provided support include Investors Bank, Prudential Financial, Inc., Wells Fargo, PNC Bank, PSE&G, Verizon, Horizon Blue Cross Blue Shield of New Jersey, Coca Cola, Capital One Bank, TD Bank, Aramark, Covanta Energy, Matrix Development Group, the family of Ronald Mount and OxyMagic carpet cleaning.
The Essex County Park System was created in 1895 and is the first county park system established in the United States. The Park System consists of more than 6,000 acres and has 23 parks, five reservations, an environmental center, a zoo, Treetop Adventure Course, ice skating rink, roller skating rink, three public golf courses, golf driving range, two miniature golf courses, four off-leash dog facilities, a castle and the Presby Memorial Iris Gardens. Turtle Back Zoo is located in Essex County's South Mountain Reservation and was opened to the public in 1963.