28 Apr

ESSEX COUNTY EXECUTIVE DIVINCENZO ANNOUNCES OPENING OF EXPANDED SAVANNA CAFÉ AND ENHANCED BISON EXHIBIT AT ESSEX COUNTY TURTLE BACK ZOO New 16,500-Square-Foot Dining Facility will Provide Needed Space to Accommodate Growing Attendance Improvements to Bison Exhibit Better Viewing Area for Visitors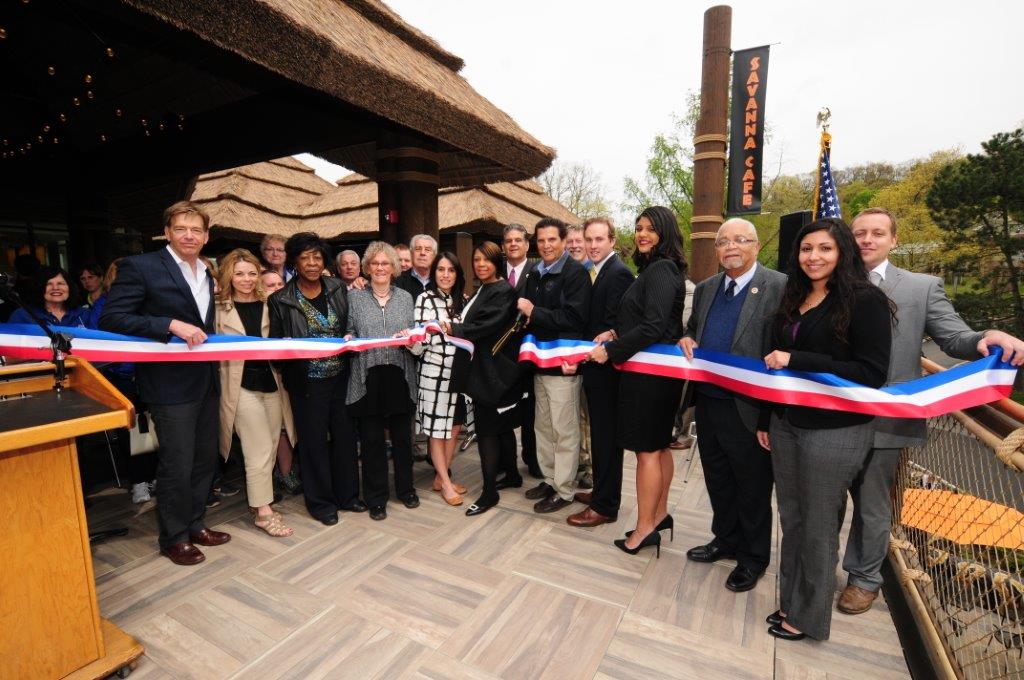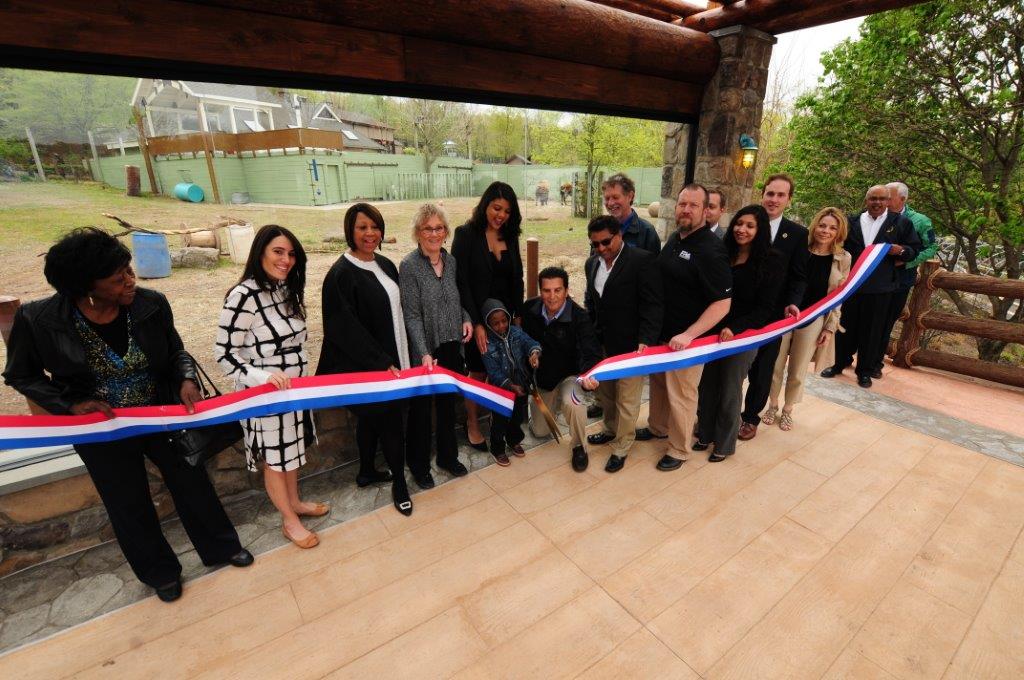 West Orange, NJ – Essex County Executive Joseph N. DiVincenzo, Jr. officially opened the new Savanna Café and an enhanced Bison Exhibit at Essex County Turtle Back Zoo on Thursday, April 28th. The two-story, 16,500-square-foot dining facility is more than three times as large as Turtle Back's old cafeteria building and provides additional space to accommodate the large crowds at Turtle Back. In addition, changes to the Bison Exhibit provide enhanced viewing areas for the public to see the animals.
"In each of the last 11 years, we set new annual attendance records and last year we welcomed over 750,000 visitors. Turtle Back Zoo has become a destination attraction for school groups, organizations and families, and a larger cafeteria was needed so that we could accommodate the large crowds and continue to provide our visitors with a first-class experience," DiVincenzo said. "The new Savanna Café offers a unique view overlooking our Zoo grounds and offers flexible space that can be used as a dining area or to host larger, special events," he noted.
"The color of the building, the thatched roof – this is really a beautiful place. The way the building is set against the natural beauty of the zoo creates a real connection to the environment," Assembly Speaker Emeritus Sheila Oliver said.
"All the concepts start in Joe DiVincenzo's head. He builds it and then it is our job to keep things as safe as they can be… and this complex is the safest neighborhood. It's a magnificent place," Sheriff Armando Fontoura said.
"It is such a privilege to work with the County Executive to bring his visions to reality. This is a great facility because ultimately it is for our children and for them to have a nice time when they come to the Zoo," said Freeholder President Britnee Timberlake, who was joined by Freeholders Leonard Luciano, Lebby Jones, Patricia Sebold and Cynthia Toro.
"The Savanna Café is another great project at Turtle Back Zoo and it was much-needed. Attendance here has soared year after year and having to build a larger cafeteria building speaks volumes about how popular an attraction our Zoo has become," Turtle Back Zoo Brint Spencer said.
"There is always something new happening at Turtle Back Zoo and the opening of the Savanna Café is a testament to that. There really isn't any reason to leave this complex once you arrive," Zoological Society Executive Director Adam Kerins said, mentioning the Treetop Adventure, miniGOLF Safari, paddle boating and access to South Mountain Reservation.
The Savannah Café has a first-floor dining area that is about 9,125 square feet with seating for 106 people and a second floor dining area that has an enclosed 2,000-square-foot dining area and an outdoor terrace that is about 5,125 square feet, with total seating for 266 people. The kitchen area on the first floor is larger, which allows a greater variety of meals and snacks to be prepared and offered, and a larger area from which patrons can order food and an increased number of check-out lanes will reduce congestion and create less crowded areas to walk. The second floor also has a bar area that can be used for private parties and events.
Named the Savanna Café, the building has thatched roofs and is decorated with bamboo ceilings and pictures of forests, deserts and other habitats on the walls. A retaining wall in front of the building is designed to resemble a 75-foot long snake and there is an outdoor dining patio with seats for 40 people. The facility is completely handicap accessible.
The new building was constructed over the footprint of the old one-story Zoo Café, which was just a 5,000-square-foot building with a walk-up counter to order food and limited indoor seating.
Greg Comito Associates from Newark received a $295,000 contract to design the Savanna Café. John O'Hara Co., Inc., from East Orange was awarded a publicly bid contract for $6,661,907 to construct the facility. The Essex County Department of Public Works monitored the project and answered questions to avoid delays. The building was funded through the Essex County Capital Budget. Construction started in September and took just eight months to complete.
Bison Exhibit Improvements
The County Executive also announced changes were made to the Bison Exhibit located in the Great Plains area. The footprint of the exhibit was enlarged to create a raised boardwalk viewing area that will enable visitors to get closer to see the animals, the façade of the animal holding area was updated with a stone facing and a glass wall was installed so that there are no obstructions to see into the exhibit area.
"We are always looking for new ways to enhance our visitors' experience when they come to Turtle Back Zoo. The Bison Exhibit is one of our largest, and the changes we made will help our guests get a closer and unobstructed view of these gentle giants," DiVincenzo said.
French and Parrello from Wall designed the improvements to the exhibit as part of an existing contract. Zenith Construction Services from East Newark was awarded a publicly bid contract for $549,900 to perform the construction work. The Department of Public Works monitored the project to answer questions and avoid delays. The improvements were funded with grants from the NJ Green Acres program and the Essex County Recreation and Open Space Trust Fund. Work started in February and was completed in three months.
The ongoing development of natural habitat exhibits has transformed Turtle Back Zoo into a destination. In each of the last 11 years, new annual attendance records have been established. Last year, the Zoo welcomed 755,239 visitors – the first time in the Zoo's history that the 700,000 mark was eclipsed.
Turtle Back Zoo recently earned its second five-year accreditation from the Association of Zoos and Aquariums, which sets the gold standard for animal care and management, has been named best zoo in the state by NJ Monthly magazine four times, and received TripAdvisor.com's Certificate of Excellence the past three years.
Revitalizing Essex County Turtle Back Zoo
 Currently under construction is the African Adventure Exhibit, which will feature four giraffes, eland, whistling ducks, ostrich and tortoises. The habitat created will resemble three acres of the African Savanna and will have multiple viewing areas for the public, including areas where the public can view the giraffes feeding. A climate-controlled barn approximately 200-by-100-feet in size to house the giraffes during the winter will be attached to the exhibit. To make the exhibit visitor-friendly during the winter months, closed circuit cameras will be installed so the African Adventure Exhibit can be viewed on a video screen in the Savanna Café. It is scheduled to open on May 10, 2016.
Since taking office in 2003, DiVincenzo has spearheaded over $70 million in upgrades to Essex County Turtle Back Zoo, which have included developing a new Educational Building, the Carousel with 33 figures of endangered animals; building the Sea Lion Sound Exhibit with sea lions, sharks and sting rays; the Big Cat Country Exhibit with jaguars and cougars; Tam-ring Gibbons Reserve with white cheeked gibbons apes, Reeves muntjac and white naped cranes; Australian Exhibit that features kangaroos, wallabies, emus and over 500 birds in the Aviary; Reptile and Education Center, open air dining pavilion and playground, Penguin Exhibit, Otter Exhibit, Wolf Exhibit, Alligator Exhibit, North American Animal Exhibit, Black Bear Exhibit, Animal Hospital, Essex Farm Petting Zoo and South American Animal Exhibit; renovating the Food Pavilion for year-round use and making upgrades to the entrance as well as fencing and infrastructure to meet AZA requirements. Funding has been provided through Green Acres grants, existing capital improvement bonds, or donations from the Zoological Society, Essex County Parks Foundation, corporations or private foundations. Corporations that have provided support include Investors Bank, Prudential Financial, Inc., Wells Fargo (Wachovia Bank), PNC Bank, PSE&G, Verizon, Horizon Blue Cross Blue Shield of New Jersey, Coca Cola, Capital One Bank, TD Bank, Aramark, Covanta Energy and OxyMagic carpet cleaning.
The Essex County Park System was created in 1895 and is the first county park system established in the United States. The Park System consists of more than 6,000 acres and has 22 parks, five reservations, an environmental center, a zoo, Treetop Adventure Course, ice skating rink, roller skating rink, three public golf courses, golf driving range, two miniature golf courses, three off-leash dog facilities, a castle and the Presby Memorial Iris Gardens. Turtle Back Zoo is located in Essex County's South Mountain Reservation and was opened to the public in 1963.