17 Apr

ESSEX COUNTY EXECUTIVE DIVINCENZO ANNOUNCES OPENING OF ANDEAN CONDOR EXHIBIT AND GIANT ANTEATER AND MANED WOLF EXHIBIT AT ESSEX COUNTY TURTLE BACK ZOO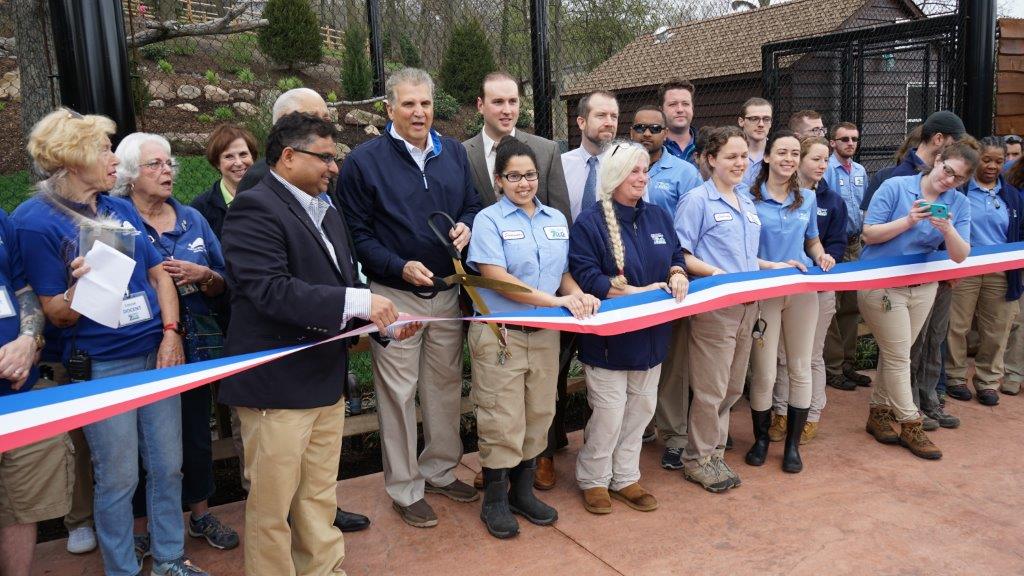 West Orange, NJ – Essex County Executive Joseph N. DiVincenzo, Jr. announced the opening of two new natural habitat-themed animal exhibits at Essex County Turtle Back Zoo on Monday, April 17th. One exhibit is for Andean Condors and the other exhibit combines Giant Anteaters and Maned Wolves. The new exhibits are part of the County Executive's ongoing initiative to expand recreational, educational and conservation opportunities at Turtle Back Zoo.
"Whenever we open new exhibits and welcome animals to Turtle Back Zoo it is a great day," DiVincenzo said. "It provides our visitors with an opportunity to see and learn about animals from distant places that they may not ordinarily see, and helps in our conservation efforts to protect species and raise awareness about the importance of animals," he added.
"As District 4 Freeholder, I am proud to host Turtle Back Zoo in my district," Freeholder Len Luciano said. "The County Executive is a great administrator but he also is a great foreman. Under his leadership, all of these construction projects at the Zoo are getting done on time and within budget," he added.
Acting Zoo Director Michael Kerr noted that the Andean Condor, Giant Anteater and Maned Wolf are all part of a species survival program promoted by the Association of Zoos and Aquariums. "Bringing these animals to Turtle Back Zoo will help further diversify the genetics of the species and help strengthen their population over the next generation," he said.
Andean Condors are a species of vultures and are the largest flying birds in the Western Hemisphere. They are found on the western coast of South America. The new exhibit is located across the path from the Savanna Café, which opened in 2016, and next to the Penguin Exhibit. It features a man-made tree in its center with plenty of areas for the birds to perch. There also is a small man-made pond within the exhibit. The new exhibit was built to replace an older one that was closed at the zoo several years ago. The female Condor coming to Turtle Back is originally from Taronga Zoo in Australia.
The Giant Anteater is native to South and Central America and is recognizable by its long snout. It eats primarily ants and termites and can grow to be 7 feet long and about 90 pounds. Maned Wolves live in open areas, such as grasslands, and can be found in Brazil, Paraguay, Argentina, Bolivia and in the northern end of the Andes Mountains. It can grow to weigh about 50 pounds and be 35 inches tall, and is recognizable by its long ears, which can be about 7 inches. The male Anteater is from Potawatomi Zoo in Indiana and the female Maned Wolf is from Denver Zoo in Colorado. The Anteater and Maned Wolf are in the area formerly occupied by the Scottish Highland Cow, which was relocated to PAWS Discovery farm in South Jersey. To enhance the public viewing area, a patio was constructed on the western side of the exhibit to allow visitors to walk right up the perimeter of the exhibit and see the animals with an unobstructed view. A similar viewing area enhancement was made to the Bison Exhibit last year. In addition, the viewing area at the Wolf Woods Exhibit was enhanced by enlarging the windows. The panoramic view gives the public greater sight lines into the exhibit and eliminates areas where the wolves can be out of view.
French and Parrello from Wall received a $90,000 contract to design the Condor Exhibit. It also designed the upgrades to the Anteater and Maned Wolf Exhibit under an existing contract. Zenith Construction from Orange was awarded two publicly-bid contracts to perform the construction work on both exhibits: $1,038,777 for the Condor Exhibit and $461,876 for the Anteater and Maned Wolf Exhibit. Funding for the improvements came from the Essex County Improvement Authority's Pooled Government Loan Program and a grant from the Zoological Society of New Jersey. Work on both exhibits started in October 2016 and was completed in less than five months.
Attendance at Turtle Back Zoo reached an all-time high of 795,558 in 2016 and the zoo has operated as a self-sustaining facility with revenue collected exceeding operating expenses for the last nine years. In addition, Turtle Back earned its third five-year accreditation from the Association of Zoos and Aquariums in 2016 and its first five-year accreditation from the Zoological Association of America, a clear indication that an institution is committed to the highest standards in animal care, ethics, conservation and education. It also has been named the Best Zoo in New Jersey by NJ Monthly magazine four times and three times has received a Certificate of Excellence from TripAdvisor.com.
The Zoo is open seven days a week from 10 a.m. to 4:30 p.m. Admission is $15 for adults, $12 for children and senior citizens, and free for children younger than 2 years. For more information, call 973-731-5800 or visit www.essexcountynj.org/turtlebackzoo.
Revitalizing Essex County Turtle Back Zoo
 Since taking office in 2003, DiVincenzo has spearheaded over $75 million in upgrades to Essex County Turtle Back Zoo, which have included developing the African Adventure with four Masai giraffes; a Sea Turtle Recovery Center, a new Educational Building; the Carousel with 33 figures of endangered animals; the Sea Lion Sound Exhibit with sea lions, sharks and sting rays; the Big Cat Country Exhibit with jaguars and cougars; Tam-ring Gibbons Reserve with white cheeked gibbons apes, Reeves muntjac and white naped cranes; Australian Exhibit that features kangaroos, wallabies, emus and over 500 birds in the Aviary; Reptile and Education Center, open air dining pavilion and playground, Penguin Exhibit, Otter Exhibit, Wolf Exhibit, Alligator Exhibit, North American Animal Exhibit, Black Bear Exhibit, Animal Hospital, Essex Farm Petting Zoo and South American Animal Exhibit; renovating the Food Pavilion for year-round use and making upgrades to the entrance as well as fencing and infrastructure to meet AZA requirements. Funding has been provided through Green Acres grants, existing capital improvement bonds, or donations from the Zoological Society, Essex County Parks Foundation, corporations or private foundations. Corporations that have provided support include Investors Bank, Prudential Financial, Inc., Wells Fargo, PNC Bank, PSE&G, Verizon, Horizon Blue Cross Blue Shield of New Jersey, Coca Cola, Capital One Bank, TD Bank, Aramark, Covanta Energy, Matrix Development Group and OxyMagic carpet cleaning.
The Essex County Park System was created in 1895 and is the first county park system established in the United States. The Park System consists of more than 6,000 acres and has 23 parks, five reservations, an environmental center, a zoo, Treetop Adventure Course, ice skating rink, roller skating rink, three public golf courses, golf driving range, two miniature golf courses, three off-leash dog facilities, a castle and the Presby Memorial Iris Gardens. Turtle Back Zoo is located in Essex County's South Mountain Reservation and was opened to the public in 1963.