23 Oct

ESSEX COUNTY EXECUTIVE DIVINCENZO ANNOUNCES NEW TRAFFIC SIGNAL ON WEST GREENBROOK ROAD IN NORTH CALDWELL Roadway Modernization will Enhance Traffic Safety by West Essex Regional High/Middle School Campus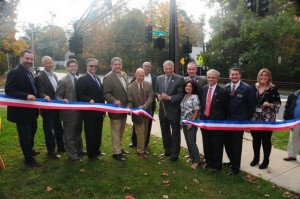 North Caldwell, NJ – Essex County Executive Joseph N. DiVincenzo, Jr. joined with officials from North Caldwell to announce new traffic signals have been installed at the intersection of West Greenbrook Road and Jay L. Hand Drive on Monday, October 23rd. A cooperative project between the County and Township, the signals will enhance traffic and pedestrian safety at the entrance to the West Essex Regional High/Middle School Campus.
"We are always ready to improve our roadways to enhance safety, especially in areas around our public schools. When the request came from North Caldwell, we were happy to collaborate to get this done to enhance safety of the students attending West Essex Regiional," DiVincenzo said. "The completion of this project is an example of what can be accomplished to benefit our residents when the different levels of government combine resources and work together," he added.
"Improving public safety is the utmost importance, so this was an easy project to support," Freeholder Len Luciano said. "We are happy to work with our partners in North Caldwell to get this done," he added.
"We are very happy about this because it will make is safer for the students coming to this campus," said North Caldwell Mayor Joseph Alessi, who was accompanied by Councilmen Frank Astorino, John Chiaia and Joshua Raymond. "None of this would have been possible with County Executive DiVincenzo. When he says he is 'Putting Essex County First,' he means it, and we appreciate his support on this project," he added.
"We have students and parents driving into this facility and we have buses pulling in and out of here. There are times when this intersection is very busy and having a traffic signal will help us out tremendously. We thank the County and the Township for working together to get this done," Schools Superintendent Barbara Longo said.
Improvements to the intersection include the installation of poles, traffic signals equipped with LED lights, pedestrian signals with countdown timers, push buttons for activation, high visibility roadway striping and signage. The LED lights shine brighter so they are easier to see and are more efficient that regular bulbs. GPS clocks also were installed to ensure traffic signal coordination is maintained. Sidewalks and curbing were repaired where needed.
Klein Traffic Consulting from West Orange designed the intersection project. J.C. Contracting from Rahway was awarded a publicly bid contract for $298,800 to perform the construction work. The Essex County Department of Public Works monitored the project to ensure delays were avoided. In a cost-sharing agreement, Essex County paid two-thirds and North Caldwell paid one-third of the costs.