21 Nov

ESSEX COUNTY EXECUTIVE DIVINCENZO ANNOUNCES NEW TRAFFIC SIGNAL EQUIPMENT IS INSTALLED AT THE NEWARK INTERSECTION OF SANFORD AVENUE AND SANFORD PLACE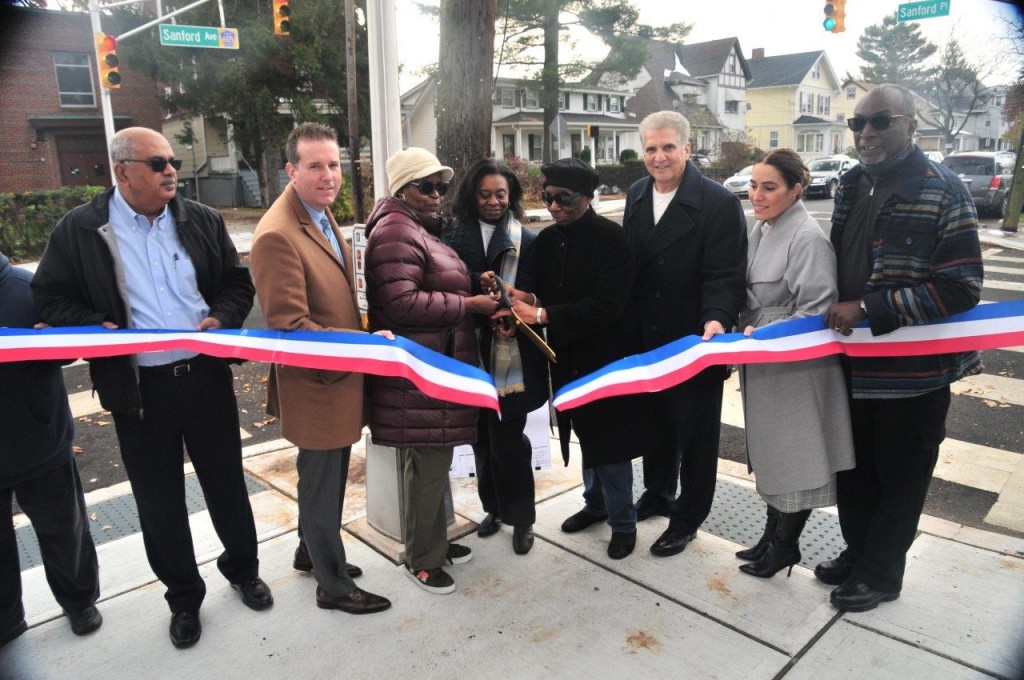 Newark, NJ – Essex County Executive Joseph N. DiVincenzo, Jr. announced on Monday, November 19th that new traffic signals have been installed at the intersection of Sanford Avenue and Sanford Place in Newark. The project is part of the County Executive's ongoing initiative to modernize infrastructure and enhance traffic safety for pedestrians and motorists.
"We are constantly reviewing our roadways to ensure they provide the safest conditions for those who are walking and driving through our communities. The intersection of Sanford Avenue and Sanford Place is in a busy residential neighborhood and several houses of worship are located nearby. Working with Freeholder Johnson, it became evident a traffic signal was needed," DiVincenzo said.
"It is critical that we improve traffic safety for pedestrians. Having the traffic signal here will help residents of all ages cross the street without having to worry about their safety," NJ State Senator and Deputy Chief of Staff Teresa Ruiz said.
"These types of projects are not insignificant because they contribute to our safety and economic development," Freeholder President Brendan Gill said.
"It's important that we pay attention to the needs of the community, and the installation of these traffic signals is what the people in the community really wanted," Freeholder Rufus Johnson said.
"It is very difficult to cross Sanford Avenue, especially for our senior citizens and young children who need more time. It also will help with cars trying to make the turn at the intersection," Sanford Block Association President Valerie Crute said.
The project included the installation of LED traffic signals, pedestrian signals with clock and audio countdown timers, push buttons, high visibility striping on the pavement and signage. In addition, GPS clocks were installed to allow the Sanford Avenue/Sanford Place signals to communicate with other signals in the area to coordinate traffic flow and ease congestion. Sidewalks, curbs and pavement that were damaged during construction were repaired.
Dynamic Traffic of Lake Como, N.J., conducted the traffic study to determine the signalization of the intersection was warranted and designed the improvements under an existing contract. Tiffany Electric from Parsippany was awarded a publicly-bid contract for $270,994 to perform the construction work. It was funded through the Public Works budget. Work started on July 30th and was completed in just three months.