07 Nov

ESSEX COUNTY EXECUTIVE DIVINCENZO ANNOUNCES NATIONAL AWARD OR DIVISION OF HOUSING AND COMMUNITY DEVELOPMENT NACCED Recognizes Redevelopment Project that Created Affordable Housing Units and Residential Units for People with HIV/AIDS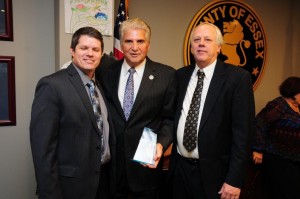 Newark, NJ – Essex County Executive Joseph N. DiVincenzo, Jr. announced the National Association of County Community and Economic Development (NACCED) recently presented Essex County with its Award of Excellence in the HOME Investment Partnerships Program. The recognition was the redevelopment of the old Newark Post Office at 999 Broad Street into a housing complex with affordable units and units for people with HIV/AIDS. This is the third national award Essex County recently has received through its Division of Housing and Community Development.
"This project is an example of how a blighted site can be redeveloped so that it stabilizes the neighborhood, helps continue the revitalization of Newark's Downtown, provides modern accommodations and an affordable place for people to reside, and restore pride in the community," DiVincenzo said. "I am very proud of our Division of Housing and Community Development for earning these awards. They recognize our creativity to develop housing for our residents and show what can be accomplished through partnerships with other governments and private developers," he added.
The Division received an Award of Excellence for the creation of an 87-unit complex that includes 47 affordable rental units and 40 market rate units. Five of the affordable units are earmarked for low-income residents with HIV/AIDs. The construction meets LEED Platinum Certification, which has resulted in lower energy costs for the residents. Amenities in the complex include a fitness center, a community room and outdoor community space. The first floor of the building is occupied by a childcare center operated by The Leaguers which serves about 100 children between the ages of 2½ to 6 years. To make way for the new construction, the old Newark Post Office was razed.
Essex County provided a HOME loan of $1.3 million to support the project. Other funding came from a HOME loan from the City of Newark, the New Jersey Housing and Mortgage Finance Agency, TD Bank and tax credit financing.
"It is great to know that the projects we are supporting have such a profound impact on the community and the residents who live there. We are helping to transform neighborhoods, provide people with a nice place to live and improve their quality of life," said George Serio, Director of the Essex County Division of Housing and Community Development.
In 2015, the Division received two Awards of Excellence NACCED for rehabilitating a single-family house in Livingston for special needs residents and supporting an affordable housing project in Orange.
NACCED is affiliated with the National Association of Counties and its main purposes are to promote community development programs and inform Federal Legislators on program successes which provides justification for additional funding for programs including the Community Development Block Grants, Emergency Solutions Grants and HOME Investment Partnerships Program that support affordable housing, community development and economic development programs that benefit low- to moderate-income households.
The Essex County Division of Housing and Community Development, located at 20 Crestmont Road in Verona/Montclair, offers a variety of assistance programs designed to stimulate development in communities, stabilize residential neighborhoods and improve the quality of life for low- and moderate-income residents. It administers the Community Development Block Grant Program, HOME Investment Partnerships Program and the Emergency Solutions grant program for the County and 18 Essex municipalities. Bloomfield, East Orange, Irvington and Newark have their own housing and development programs. For more information, call the Essex County Division of Housing and Community Development at 973-655-0200.