21 Apr

ESSEX COUNTY EXECUTIVE DIVINCENZO ANNOUNCES MODERNIZATION PROJECT FOR ESSEX COUNTY INDEPENDENCE PARK Basketball and Volleyball Courts, and Practice Soccer Field to Receive New Playing Surfaces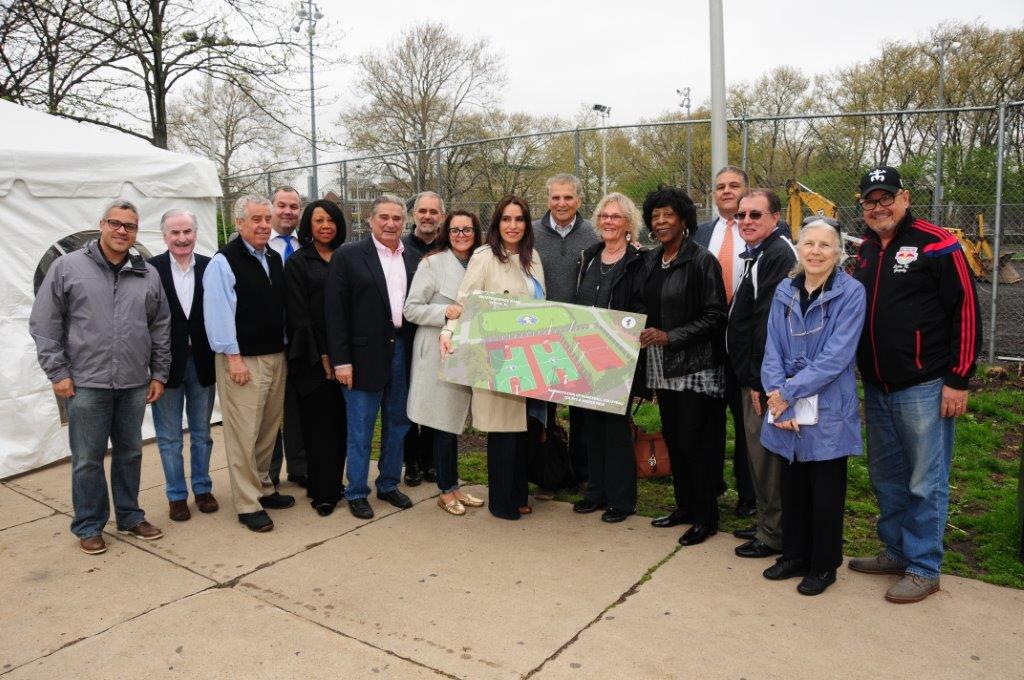 Newark, NJ – Essex County Executive Joseph N. DiVincenzo, Jr. announced that a project was underway to modernize the basketball and volleyball courts and a soccer field with new playing surfaces in Essex County Independence Park in Newark on Friday, April 21st. The upgrades are part of the County Executive's ongoing initiative to provide the most up-to-date recreation facilities.
"Essex County parks play a vital role in our residents' lives, especially in the Ironbound, which is one of the most densely populated areas in the state. Independence Park is like an open space oasis that people of all ages rely on for recreation, relaxation, exercise and socialization," DiVincenzo said. "Upgrading the basketball and volleyball courts and practice soccer field will ensure our facilities continue to meet the needs of our residents," he added.
The basketball courts and volleyball courts will be rebuilt with a new asphalt surface and backboard and netting equipment, respectively. A small practice soccer field will be modernized with a new synthetic grass surface. The original synthetic grass surface was installed on the practice field in 2007 when it was transformed from being an outdoor roller hockey rink. The facilities needed to be upgraded due to normal use by the public.
The improvements were welcomed by community leaders and elected officials.
"I am pleased to be part of an administration that is committed to preserving history and the integrity of an Olmsted-designed park, while also creating better tomorrows in the future. The County Executive understands that keeping our parks updated promotes economic vitality and quality of life," NJ State Senator and Deputy Chief of Staff Teresa Ruiz said. "The parks are key in the Ironbound, keeping the community tight-knit and thriving," Assembly Speaker Emeritus Sheila Oliver said. "I commend Joe D. This park is overused because of the things he's done to improve it. It's great to see every section of the park getting attention," Assemblywoman Eliana Pintor Marin said.
"This is another great idea by the County Executive to improve the quality of life for our residents," Freeholder Patricia Sebold said. "The County Executive is truly building on his theme of 'Putting Essex County First,' especially when it comes to revitalizing the parks," Freeholder Lebby Jones said.
"As a child growing up in the Ironbound, this was our recreation area. It's still a great place to grow up because Joe DiVincenzo and the Freeholders have continued to improve the parks and adapted the facilities to meet the changing needs of the community," Sheriff Armando Fontoura said.
"Joe DiVincenzo understands the needs of our community. Whenever he is involved, we know the project will be done quickly and done right," Newark East Ward Councilman Augusto Amador said.
"When you hear that the County Executive is hosting a press conference, you know something good is about to be done. Rebuilding our park facilities allows kids to have a place to play in a congested community like the Ironbound," Ironbound Community Corporation Executive Director Joseph Della Fave said.
"Redoing the park really means so much to the children and their families," SPARK President Nancy Zak said.
"We have over 1,000 children playing in our soccer program, and the success of our program correlates to when Joe DiVincenzo took office. Because of him, we have had the facilities to train and play games on. Thank you for everything you do for us," Ironbound Soccer Club Director John Soares said.
Former Freeholder President Joseph Parlavecchio reminisced that the first 17 years of his life were spent in the same four-block radius, which included Independence Park. "If it wasn't for the park, we would not have had a place to play. It was an oasis," he noted.
The upgrades were designed in-house by the Essex County Department of Public Works, which also will monitor the project to answer questions and ensure delays are avoided. Sita Construction from Goshen, N.Y., was awarded a publicly-bid contract for $337,650 to perform the construction work. The improvements are being funded through the Essex County Capital Budget. Work started in March and is scheduled to be completed in July.
Revitalizing Essex County Independence Park
In 2016, the playground was modernized with new apparatus and a rubberized safety surface. In 2013, the regulation-size soccer field received a new synthetic grass surface playing surface. In 2011, the softball/little league field at the corner of Van Buren Street and Oliver Street was upgraded with a synthetic grass surface and new fencing, and the field house was renovated. In 2010, the Senior Building received a comprehensive renovation. Essex County has worked cooperatively with the Down Neck Sports Community Group and SPARK to receive grant funding from the NJ Green Acres program and the Essex County Recreation and Open Space Trust Fund to fund improvements to Independence Park.
The Essex County Park System was created in 1895 and is the first county park system in the United States. It has been expanded to include about 6,000 acres of land and includes 23 parks, five reservations, an environmental center, a zoo, ice skating rink, roller skating rink, three public golf courses, golf driving range, miniature golf course, three dog parks, a castle and the Presby Memorial Iris Gardens. At 12.69 acres, Independence Park is the fifth smallest park in the historic Essex County Park System. Land for Independence Park was acquired in 1895.