09 May

ESSEX COUNTY EXECUTIVE DIVINCENZO ANNOUNCES MODERNIZATION OF BASKETBALL COURTS AND WALKING TRACK, AND INSTALLATION OF PATHWAY LIGHTING IN ESSEX COUNTY IRVINGTON PARK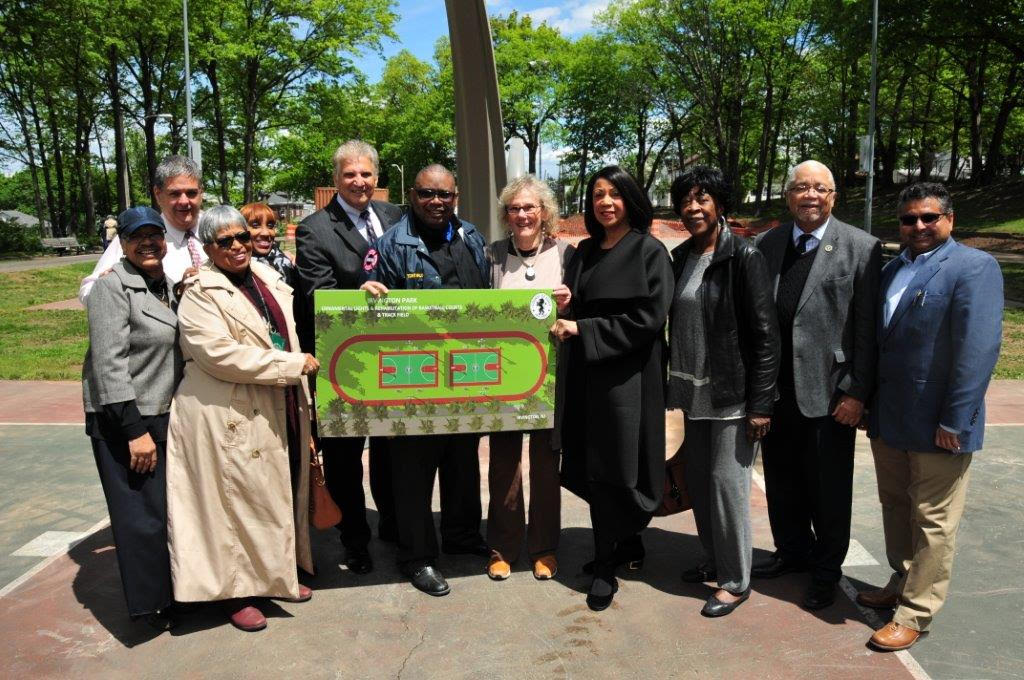 Irvington, NJ – On Tuesday, May 9th, Essex County Executive Joseph N. DiVincenzo, Jr. announced that a project was underway to modernize the basketball courts and walking track and install ornamental pathway lighting throughout the park. The project is part of the County Executive's ongoing initiative to ensure park facilities are up to date and able to meet the needs of the community.
"Our parks have a vital role in enhancing the quality of life and health of our residents, so it is important that we provide the most up-to-date places to play and exercise. It's been 13 years since the basketball courts and walking track were improved and it's time they were updated. The community deserves facilities of which they can be proud," DiVincenzo said. "The installation of the ornamental lighting will enhance the aesthetics of the park and improve public safety," he added.
"When I took office in 2014, I promised to revitalize the township. The County Executive and the Freeholders have helped on the County level by reinvigorating Irvington Park. It takes all of us to make Irvington what it is today," Irvington Mayor Tony Vauss said.
Both the two basketball courts and running track were upgraded with new surfaces in 2004. Because of regular wear and tear, and significant use, it is necessary to update the facilities. The basketball courts will receive new surfaces, poles and backboard equipment, and the walking track will receive a new rubberized surface. In addition, 93 ornamental lights will be installed throughout the park along the walking paths.
"The County Executive has stepped up and taken care of every park in every community. It's great to see another asset being developed because it's the residents who are benefitting," Assembly Speaker Emeritus Sheila Oliver said.
"Irvington is a progressive township and I want everyone to be encouraged to come here and experience it. I want to thank the County Executive for having the foresight to ensure urban cities have up-to-date recreation facilities," Freeholder Lebby Jones said. "Improvements like this one have made Irvington Park better than ever," Freeholder Patricia Sebold said.
"We are very proud of this park. We want to thank Joe DiVincenzo and the Freeholders for everything that is being done. We are overjoyed and appreciate it," Irvington Councilwoman and Irvington Park Conservancy President Sandra Jones said. "To see this park being revitalized is great because it means our residents don't have to go somewhere else to enjoy open space. This is a great thing," Irvington Councilwoman Renee Burgess said.
"The park and these improvements are important to us because they carry on the legacy of my husband Bilal who always wanted to take care of seniors, children and the community," Baseemah Beasley said.
The project was designed in-house by the Essex County Department of Public Works, which also will monitor the project to ensure delays are avoided. Zenith Construction from Orange was awarded a publicly bid contract for $1,023,663 to perform the construction work. The improvements are being funding through the Essex County Capital Budget. Work started last month and is scheduled to be completed by July.
Revitalizing Essex County Irvington Park
In 2016, the field house was renovated and renamed as the D. Bilal Beasley Community Center, in memory of the late Freeholder and Irvington Councilman. In 2011, a synthetic grass surface soccer field was installed and three entrances to the park were upgraded. In 2006, a two-story, 2,100-square-foot addition was constructed onto the community center to create more space for the public to meet, storage space and public restrooms. In 2004, the tennis courts, walking track, basketball courts, tennis courts, softball fields and three park entrances were upgraded. In 2003, a rubberized safety surface was installed in the Irvington Park playground and lighting was improved. Essex County has partnered with the Irvington Park Conservancy to obtain funding from the New Jersey Green Acres program and the Essex County Recreation and Open Space Trust Fund.
The Essex County Park System was created in 1895 and is the first county park system established in the United States. The Park System consists of more than 6,000 acres and has 23 parks, five reservations, an environmental center, a zoo, Treetop Adventure Course, ice skating rink, roller skating rink, three public golf courses, golf driving range, two miniature golf courses, three off-leash dog facilities, a castle and the Presby Memorial Iris Gardens. Irvington Park is 24.38 acres and is the 12th largest park in the Essex County system. Land for the park was purchased in 1906 and improvements to the site were completed in 1913.