09 Nov

ESSEX COUNTY EXECUTIVE DIVINCENZO ANNOUNCES MODERNIZATION OF BASKETBALL AND TENNIS COURTS IN ESSEX COUNTY GLENFIELD PARK IS COMPLETED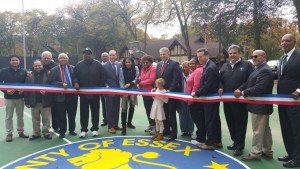 Montclair, NJ – On Thursday, November 9th, Essex County Executive Joseph N. DiVincenzo, Jr. announced that the project to modernize the basketball and tennis courts in Essex County Glenfield Park is completed. The project is part of the County Executive's ongoing initiative to continue the revitalization of the Essex County Parks System and provide up-to-date recreation facilities that meet the needs of the community.
"Essex County Glenfield Park is the focal point of Montclair's Fourth Ward. Making sure our facilities are up to date is essential because this park is heavily used by students from Glenfield Middle School, recreation programs and members of the community," DiVincenzo said. "Parks that offer modern facilities, such as these tennis and basketball courts, positively contribute to the vibrancy of the neighborhood, enhance property values and quality of life, and influence public health," he added.
The two basketball courts and three tennis courts were reconstructed with new asphalt surfaces, fencing and sports equipment. The basketball courts were dedicated in 2015 as the "Robert S. Hurt Basketball Courts" in honor of the late Robert S. Hurt, who was the longtime junior varsity and assistant varsity basketball coach at Montclair High School. The basketball and tennis courts were last redone in 2006 and needed to be replaced because of regular wear and tear.
The upgrades were welcomed by local elected officials and community leaders.
"I have always said Joe has been a great leader for our County. The work to modernize the recreation facilities here is an example of his commitment to our parks and open spaces," Freeholder Vice President Brendan Gill said. "The improvements provide great opportunities for our children and are a testament to the County Executive and his administration," Freeholder Leonard Luciano said.
"This is the park where I grew up and played basketball. I want to thank the County Executive for his efforts to restore these courts. I know our residents appreciate it," Montclair Mayor Robert Jackson said. "Thank you to the County Executive for making these improvements. These courts are named after Bobby Hurt, and I know he is looking down on us and smiling," Montclair Councilor Renee Baskerville said.
"I really appreciate the County Executive naming the basketball courts after my brother Bobby to keep his memory alive. This is something that will last forever and now the brand new courts look fabulous," said Patricia Hurt.
"We thank the County Executive for the attention he has given to improving Glenfield Park, and we look forward to working with him on even greater things in this park," said Clarence Jackson, Vice Chairman of the Montclair Neighborhood Development Corporation's Board of Directors.
The improvements were designed in-house by the Essex County Department of Public Works, which also monitored the project to ensure delays were avoided. Shauger Property Services of East Orange was awarded a publicly-bid contract for $353,275 to perform the construction. The project was funded with a grant from the Essex County Recreation and Open Space Trust Fund Advisory Board. Work started in early August and was completed in just three months.
Revitalizing Essex County Glenfield Park
 In 2015, the playground and restroom building received a facelift. In 2009, the community center was named as the "Essex County Wally Choice Community Center" in honor of Montclair resident Wally Choice, who has been President and Executive Director of Montclair Grass Roots, a community organization that has provided recreation and educational enrichment programs for children, for half a century. In addition, the football field and two softball diamonds were modernized that same year. The football field and softball diamond near the community center were upgraded with new irrigation and drainage systems and resurfaced with sod to improve playing conditions. Football and soccer goals were installed on the field. A synthetic grass surface was installed on the softball field in the eastern section of the park.
In 2006, a major facelift included rehabilitating the tennis and basketball courts, developing a new horseshoe pit, repairing the perimeter wrought iron fence, installing an eight-station exercise course, enhancing the aesthetics of the park entranceways, installing new picnic tables, repairing the community building and field house, and removing dead trees and branches. Essex County partnered with Montclair Grass Roots to obtain funding from the New Jersey Green Acres program and the Essex County Recreation and Open Space Trust Fund.
The Essex County Park System was created in 1895 and is the first county park system established in the United States. The Park System consists of more than 6,000 acres and has 23 parks, five reservations, an environmental center, a zoo, Treetop Adventure Course, ice skating rink, roller skating rink, three public golf courses, golf driving range, two miniature golf courses, three off-leash dog facilities, a castle and the Presby Memorial Iris Gardens.