08 May

ESSEX COUNTY EXECUTIVE DIVINCENZO ANNOUNCES INSTALLATION OF SOLAR PANELS ON ROOF OF ESSEX COUNTY BUILDING IN VERONA Green Energy Initiative will Save about $21,000 annually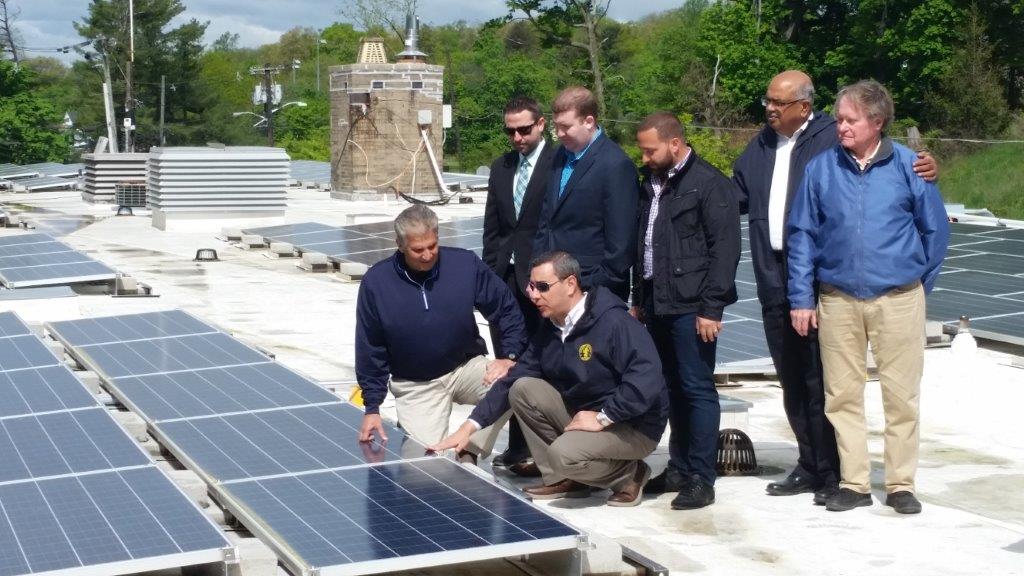 Verona, NJ – Essex County Executive Joseph N. DiVincenzo, Jr. announced on Monday, May 8th that solar panels have been installed on the roof of the Department of Public Works/Division of Senior Services building at 900 Bloomfield Avenue in Verona. The solar panels are expected to reduce energy costs at the site by 50 percent and result in a savings of about $21,000 a year.
"Our building at 900 Bloomfield Avenue is better known as the location of our salt dome and the place where we gather to oversee our snow removal operation. But the installation of solar panels on the roof is an example of how unused space can be utilized to make our offices run more efficiently and reduce costs in an environmentally-friendly way," DiVincenzo said. "I commend our Public Works Director Sanjeev Varghese and his staff for thinking creatively," he added.
The 302 panels cover almost 6,000 square feet of the roof of the one-story building at 900 Bloomfield Avenue. It is anticipated that about 200 megawatt hours of electricity will be produced annually, which will save Essex about $21,000 a year (The electricity bill for 900 Bloomfield Avenue is about $50,000 annually). Essex County will receive a credit on days when the amount of electricity produced is more than the amount consumed. The excess electricity will be sent into the grid for general public use.
"This is a wonderful idea and I'm looking forward to seeing solar panels on more of our county buildings," Freeholder Patricia Sebold said.
"Verona is a sustainable community and we have been promoting solar panels. We are pleased that Essex County has taken up this cause with us and is moving toward more environmentally friendly alternatives for energy," Verona Mayor Kevin Ryan said.
Vreeland Engineering from Flanders designed the project and Dobtol Construction LLC from Hackensack installed the solar panels. Essex County received a $250,000 FEMA Hazard Mitigation Grant to pay for the entire project.
Another green energy initiative undertaken by Essex County was the installation of charging stations for electric cars at the Essex County South Mountain Recreation Complex in West Orange and the Essex County Government Complex in Newark. Residents can "fill up" their cars free of charge.