19 Aug

ESSEX COUNTY EXECUTIVE DIVINCENZO ANNOUNCES FACELIFT FOR ESSEX COUNTY GLENFIELD PARK PLAYGROUND AND RESTROOM BUILDING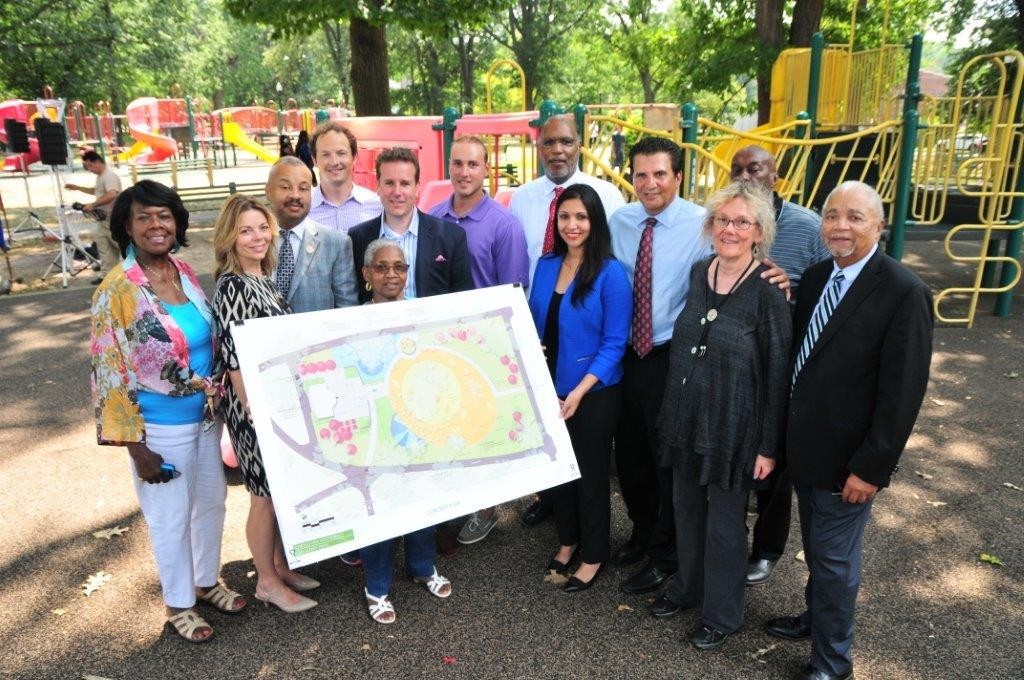 Montclair, NJ – Essex County Executive Joseph N. DiVincenzo, Jr. announced that Essex County Glenfield Park will be receiving a $1.5 million upgrade to its playground and restroom building on Wednesday, August 19th. The upgrades are part of the executive's ongoing initiative to enhance residents' quality of life by revitalizing the Essex County Parks System and providing up-to-date facilities.
"The proximity of the park to Glenfield Middle School, the hundreds of children who participate in the Grass Roots summer camp and use by the general public made modernizing the Glenfield Park playground and restroom building a priority," DiVincenzo said. "We are especially excited about the unique design of the new playground and how it incorporates music and instruments into the playing experience. These features are examples of how playtime can benefit our children's physical fitness and exercise their cultural enrichment," he added.
Local elected officials and community members said they appreciated the County's investment in the community and were looking forward to the improvements.
"I am delighted to see the investment by the county in Glenfield Park. People in Washington know about the priority we have in our parks and open spaces and the work done by the County Executive DiVincenzo has made Essex the model for park preservation," Congressman Donald Payne said.
"This is a fantastic project for the groups that use these facilities every day as well as the entire region because it makes this place more of a destination," Freeholder Vice President Brendan Gill said. "The upgrades will beautify this area, but also reaffirms our County's role as the premiere advocate for preserving open space," he added.
"We have to thank County Executive DiVincenzo for coming up with so many ideas to make Essex County better. It adds so much to our communities and our quality of life," Freeholder Patricia Sebold said.
"Childhood memories are made in parks and it's important that we provide modern facilities that will provide these kinds of opportunities," Freeholder Cynthia Toro said. "Quality of life is important not only to maintain but to enhance," she added.
Freeholder Leonard Luciano said the improvements to the park are important because it will be the children who will benefit.
"On behalf of Montclair, we would like to thank the county for reinvesting in our township. Under the leadership of the County Executive and with the Freeholder Board, great things are being done to benefit the people," Montclair Mayor Robert Jackson said.
"Joe DiVincenzo has been a great County Executive and you can see it in how beautiful all the county parks are. These are tremendous upgrades coming to the park and we appreciate it because it is the right thing to do," Montclair Neighborhood Development Corporation President Albert Pelham said.
"Our County Executive always says how much his life was influenced by the time he spent in Branch Brook Park when he was a child. Projects like these will afford younger generations today of having the same experiences in Glenfield Park," Essex County Deputy Chief of Staff William Payne said.
"On behalf of Montclair Grass Roots, we are so grateful and appreciate what is being done here. Our children will have a great place to play," Grass Roots Board Member Katherine Nicholson said.
The centerpiece of the new playground will be a Treehouse Adventure. These large climbing apparatus will be installed between two large existing trees growing in the playground and will provide children with the feeling they are climbing in the trees. In addition, there will be two separate play areas for children ages 2-5 years and 5-12 years. Each section will have age-appropriate apparatus for the children to play and climb on, including swings and animal characters. A third area, called Fun with Music, will have playground apparatus with musical instruments incorporated into the design. There will be drums, chimes, xylophone and other smaller instruments that will enable children to experiment with music.
The restroom building will receive a complete makeover with new fixtures and interior renovations. The exterior also will be refinished and art panels will be installed on the building's façade to connect with the cultural arts theme of the playground.
Arterial LLC from Montclair was awarded a $74,090 contract to design the playground. Zenith Construction from Orange was awarded a publicly bid contract for $1.4 million to perform the construction work. The Essex County Department of Public Works is monitoring the project to answer questions and avoid delays. It is scheduled to be completed in the fall of 2015.
Revitalizing Essex County Glenfield Park
 In 2009, the community center was named as the "Essex County Wally Choice Community Center" in honor of Montclair resident Wally Choice, who has been President and Executive Director of Montclair Grass Roots, a community organization that has provided recreation and educational enrichment programs for children, for 48 years. In addition, the football field and two softball diamonds were modernized that same year. The football field and softball diamond near the community center were upgraded with new irrigation and drainage systems and resurfaced with sod to improve playing conditions. Football and soccer goals were installed on the field. A synthetic grass surface was installed on the softball field in the eastern section of the park.
In 2006, a major facelift included rehabilitating the tennis and basketball courts, developing a new horseshoe pit, repairing the perimeter wrought iron fence, installing an eight-station exercise course, enhancing the aesthetics of the park entranceways, installing new picnic tables, repairing the community building and field house, and removing dead trees and branches. Essex County partnered with Montclair Grass Roots to obtain funding from the New Jersey Green Acres program and the Essex County Recreation and Open Space Trust Fund.
The Essex County Park System was created in 1895 and is the first county park system established in the United States. The Park System consists of more than 6,000 acres and has 22 parks, five reservations, an environmental center, a zoo, Treetop Adventure Course, ice skating rink, roller skating rink, three public golf courses, golf driving range, two miniature golf courses, three off-leash dog facilities, a castle and the Presby Memorial Iris Gardens.
Contact:
Anthony Puglisi
973-621-2542
Lauren Shears
973-621-1590