18 Dec

ESSEX COUNTY EXECUTIVE DIVINCENZO ANNOUNCES FACELIFT FOR ESSEX COUNTY GLENFIELD PARK PLAYGROUND AND RESTROOM BUILDING IS COMPLETED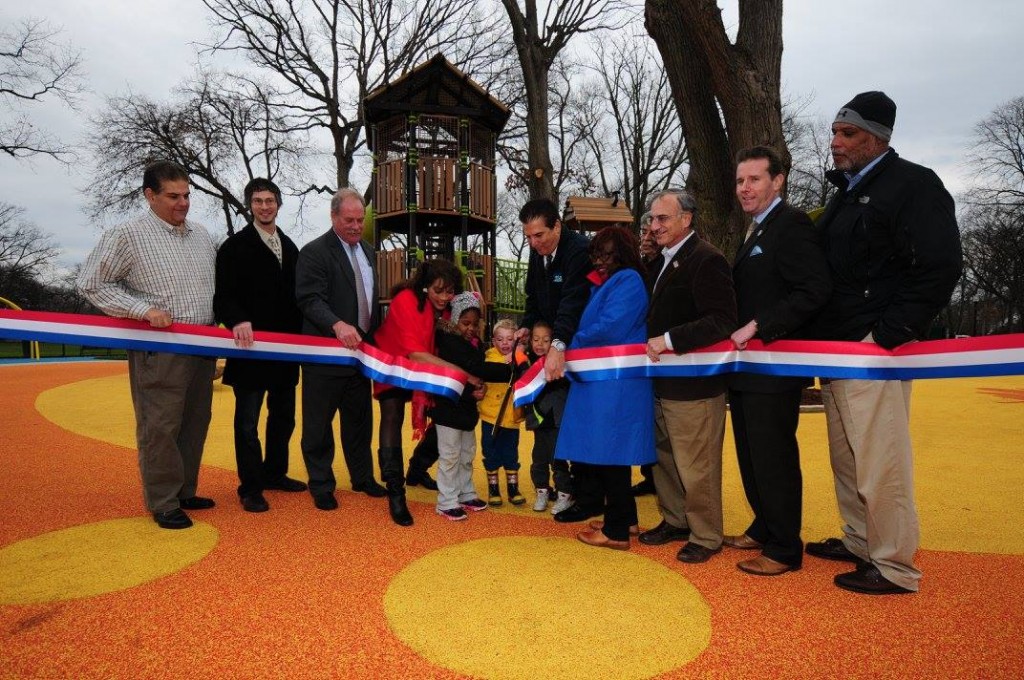 Montclair, NJ – Essex County Executive Joseph N. DiVincenzo, Jr. announced on Friday, December 18th that a $1.5 million facelift to the Essex County Glenfield Park playground and restroom building has been completed. The four-month long project is part of the County Executive's ongoing initiative to enhance residents' quality of life by revitalizing the Essex County Parks System and providing up-to-date facilities.
"Playgrounds are excellent facilities to get children engaged in physical activity and exercise while having fun. We are especially excited how music and instruments are incorporated into the design because it demonstrates how playtime and cultural enrichment can be combined," DiVincenzo said. "Essex County Glenfield Park is the focal point of Montclair's 4th Ward neighborhood, and with its proximity to Glenfield Middle School and the many children who participate in the Grass Roots summer camp, modernizing the playground and restroom building was much needed," he added.
Elected officials and community members favorably viewed the makeover of the playground and restroom building, calling the project a great investment in Essex County Glenfield Park.
"I want to thank the County Executive for his leadership on projects like this," Freeholder Vice President Brendan Gill said. "It was about a year ago that we sat with the engineers and shared our ideas about the playground and today we can see they hit the mark spot on," he added.
"This is a great improvement to our community and we appreciate the investment Essex County has made," Montclair Mayor Robert Jackson said. "We want to thank the County Executive for all his hard work. It has been great having Essex County as our partner," Montclair Deputy Mayor Robert Russo said. "The universal language is music and it's fitting to have this unique feature here in Glenfield Park's playground because of the diverse community that surrounds this area," Montclair Councilor Renee Baskerville said.
"This is a spectacular playground that is a great example of how cultural enrichment and physical activity for our children can co-exist," Elaine Spears from the Montclair Neighborhood Development Corporation said, referring to the musical instruments incorporated into the design of the playground equipment.
"Essex County really did a beautiful job both inside and out to rejuvenate the playground and building. The children will really enjoy this," said Celine Choice, wife of Wally Choice, founder of Montclair GrassRoots.
The centerpiece of the new playground is a Treehouse Adventure-themed climbing apparatus. The equipment is installed between two large existing trees growing in the playground and provides children with the feeling they are climbing in the trees. In addition, there are two separate play areas for children ages 2-5 years and 5-12 years. Each section has age-appropriate apparatus for the children to play and climb on, including swings and animal characters. A third area, called Fun with Music, has playground equipment with musical instruments incorporated into the design. There are drums, chimes, a xylophone and other smaller instruments that will enable children to experiment with music.
The restroom building received a complete makeover with new fixtures and interior renovations. The exterior has been refinished and art panels will be installed on the building's façade to connect with the cultural arts theme of the playground.
Arterial LLC from Montclair was awarded a $74,090 contract to design the playground. Zenith Construction from Orange was awarded a publicly bid contract for $1.4 million to perform the construction work. The Essex County Department of Public Works monitored the project to answer questions and avoid delays. Work started in August and was completed in four months.
Revitalizing Essex County Glenfield Park
 In 2015, the basketball courts were named the "Robert S. Hurt Basketball Courts" in honor of the late Bobby Hurt, a longtime junior varsity and assistant varsity basketball coach at Montclair High School and founder of Basketball 101, a summer basketball camp. In 2009, the community center was named as the "Essex County Wally Choice Community Center" in honor of Montclair resident Wally Choice, who has been President and Executive Director of Montclair Grass Roots, a community organization that has provided recreation and educational enrichment programs for children, for 48 years. In addition, the football field and two softball diamonds were modernized that same year. The football field and softball diamond near the community center were upgraded with new irrigation and drainage systems and resurfaced with sod to improve playing conditions. Football and soccer goals were installed on the field. A synthetic grass surface was installed on the softball field in the eastern section of the park.
In 2006, a major facelift included rehabilitating the tennis and basketball courts, developing a new horseshoe pit, repairing the perimeter wrought iron fence, installing an eight-station exercise course, enhancing the aesthetics of the park entranceways, installing new picnic tables, repairing the community building and field house, and removing dead trees and branches. Essex County partnered with Montclair Grass Roots to obtain funding from the New Jersey Green Acres program and the Essex County Recreation and Open Space Trust Fund.
The Essex County Park System was created in 1895 and is the first county park system established in the United States. The Park System consists of more than 6,000 acres and has 22 parks, five reservations, an environmental center, a zoo, Treetop Adventure Course, ice skating rink, roller skating rink, three public golf courses, golf driving range, two miniature golf courses, three off-leash dog facilities, a castle and the Presby Memorial Iris Gardens.