07 Mar

ESSEX COUNTY EXECUTIVE DIVINCENZO ANNOUNCES ESSEX COUNTY PARKS DEPARTMENT RECEIVES TWO AWARDS OF EXCELLENCE AT NEW JERSEY RECREATION AND PARKS ASSOCIATION CONVENTION

Essex County Grover Cleveland Park Playground and Turtle Back Zoo African Adventure are Recognized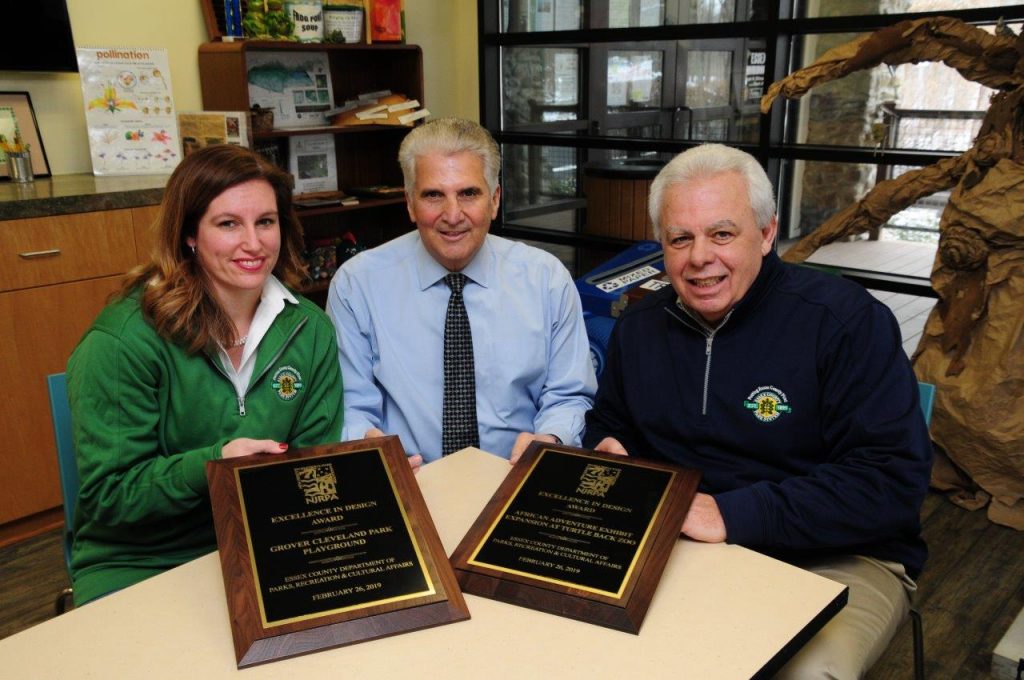 ESSEX COUNTY EXECUTIVE DIVINCENZO ANNOUNCES ESSEX COUNTY PARKS DEPARTMENT RECEIVES TWO AWARDS OF EXCELLENCE AT NEW JERSEY RECREATION AND PARKS ASSOCIATION CONVENTION
Essex County Grover Cleveland Park Playground and Turtle Back Zoo African Adventure are Recognized
Essex County, NJ – Essex County Executive Joseph N. DiVincenzo, Jr. announced that the Essex County Department of Parks, Recreation and Cultural Affairs was presented with two awards of excellence at the annual New Jersey Recreation and Parks Association convention held in Atlantic City on Tuesday, February 26th. Earning awards were Essex County Grover Cleveland Park Playground in Caldwell/Essex Fells and Essex County Turtle Back Zoo African Adventure exhibit area in West Orange.
"I am so proud of our Parks Department for the statewide recognition they received from the NJRPA. Our parks and Turtle Back Zoo are community gathering places that our residents use for recreation, athletic activities, relaxation and more, and contribute greatly to our quality of life," DiVincenzo said.
Essex County Grover Cleveland Park received an Excellence in Design Award. Opened in May 2018, the playground has two play areas near the Children's House: one for children ages 2-5 and one for children ages 5-12. There are climbing apparatus, slides, spinners and swings for both age groups, including handicap-accessible swings. A new feature is a miniature zip line. The facility has a rubberized safety surface in areas where play equipment is located. There are also grassy areas where children can run and play. In the center of the playground is a seating area from where parents can watch their children.
Essex County Turtle Back Zoo African Adventure exhibit area was recognized with an Excellence in Design Award. The area opened with a Giraffe Exhibit in May 2016 and was expanded in 2017 to include the Ronald Mount Lion and Hyena Exhibit and in 2018 to include the Shores of Africa Penguin Exhibit. Each exhibit is part of Turtle Back's ongoing commitment to education and conservation.
About the Essex County Parks System
The Essex County Park System was created in 1895 and is the first county park system established in the United States. The Park System consists of more than 6,000 acres and has 23 parks, five reservations, an environmental center, a zoo, Treetop Adventure Course, ice skating rink, roller skating rink, three public golf courses, golf driving range, two miniature golf courses, three off-leash dog facilities, a castle and the Presby Memorial Iris Gardens.
About the New Jersey Recreation and Parks Association
The New Jersey Recreation and Park Association is dedicated to enhancing the lives of all New Jersey residents by supporting outstanding park, recreation, and natural resources management programs. Since 1928, the efforts initiated by NJRPA and its membership have resulted in tangible benefits for communities throughout the state. The mission and goals of NJRPA are pursued by the 700 volunteer members of the association: professionals and citizens working in state, county, municipal, non-profit and private park, recreation, health and conservation agencies; students and faculty at colleges and universities; and commercial suppliers of parks and recreation products and services.
# # #