22 Jun

ESSEX COUNTY EXECUTIVE DIVINCENZO ANNOUNCES CONSTRUCTION OF MODERN PLAYGROUND IN ESSEX COUNTY RIVERBANK PARK IS UNDERWAY Riverbank Facility is Among Five Playgrounds being Upgraded This Year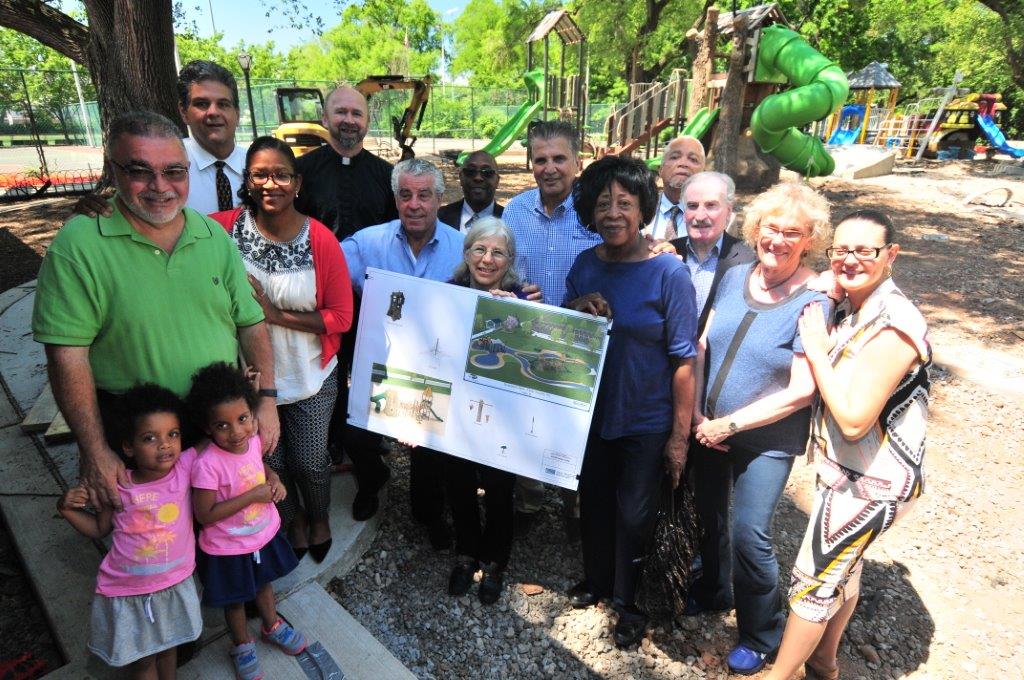 Newark, NJ – Essex County Executive Joseph N. DiVincenzo, Jr. announced that the reconstruction of the playground in Essex County Riverbank Park was underway on Wednesday, June 22nd. This project is part of the County Executive's ongoing initiative to modernize recreation facilities throughout the Essex County Parks System and ensure they meet today's needs. This year, five playgrounds are being upgraded; they include Riverbank Park, Independence Park, Irvington Park, West Side Park and Belleville Park.
"Despite its small size, Riverbank Park is one of the most heavily used parks in our system. The playground is the centerpiece because it provides valuable opportunities for our children to exercise, socialize and have fun," DiVincenzo said. "The pirate ship and sea-faring design of the playground will provide a unique recreation experience for our children and highlights the park's connection and proximity to the waterfront," he added.
Community members and elected officials welcomed the project and were looking forward to when the playground would re-open.
"I would like to thank the County Executive for recognizing that our children deserve the best. Joe is a kid from Newark and he recognizes that the opportunities we present to our children today will help them in their future," NJ State Senator and Deputy Chief of Staff Teresa Ruiz said. "The County Executive is making sure that every child has the same experiences that he had while growing up in Newark. I'm looking forward to this playground opening so that my daughter will have a new place to play," Assemblywoman Grace Spencer said. "The County Executive understands the needs of the Ironbound. He understands that it is important for our children and families to have an interaction with open spaces and recreation facilities that are safe," Assemblywoman Eliana Pintor Marin said.
"I am always happy to these press events because Joe DiVincenzo always has such wonderful ideas. Look at what we are doing throughout our Parks System to modernize our playgrounds," said Freeholder Patricia Sebold, who also serves as a member of the Essex County Recreation and Open Space Trust Fund Advisory Board. "This park and playground are treasures. We have to realize the resources we have in Essex County. I am proud to work with the County Executive to make these things happen for the benefit of our children," Freeholder Lebby Jones said. "Announcements like these never get old because we are always at a new place announcing new beginnings. This is another example of the good things the County Executive is doing for our children and families," Freeholder Wayne Richardson said.
Sheriff Armando Fontoura said Independence Park is special to him because it is where he played after immigrating to America, and the interaction with other people helped him learn English and establish friendships. "Joe has done a lot for Essex County, but he is at his best when improving our parks. It's a labor of love," the Sheriff added.
"Not too long ago, we were at Independence Park making the same announcement for the new playground there. I haven't seen anyone demonstrate such a high level of support for and commitment to the community as our County Executive," Newark Councilman Augusto Amador said.
"This is a really exciting day for us. We are glad to hear that this playground is progressing so quickly and look forward to it reopening," said Nancy Zak from SPARK.
The new playground is designed to connect the Essex County Riverbank Park playground with the nearby Passaic River. The rubberized safety surface will be colored blue to symbolize the water and will be outlined in tan for the shore. The climbing apparatus will be designed in the shape of a large sailboat. There will be separate play areas and swing sets for children ages 2-5 and 5-12. A new "spray and play" feature will be incorporated into the playground so children can play in the water. There will be seating areas inside the playground for parents to sit and a fence will be erected around the playground to prevent children from wandering off.
Mott MacDonald from Iselin received a professional contract for $61,500 to design the new playground. Tec Con Contractors from East Orange was awarded a publicly bid contract for $849,163 to perform the construction work. The Essex County Department of Public Works is answering questions and monitoring the project so that delays can be avoided. The playground improvements are being funded with grants from the NJ Green Acres program and the Essex County Recreation and Open Space Trust Fund and through the Essex County Capital Improvement Budget. Construction started in May and is scheduled to be completed by September 2016.
 Revitalizing Essex County Riverbank Park
In 2003, Essex County remediated contaminated soil from the park, installed a synthetic surface soccer field and scoreboard, repaired the wrought iron fence and made significant landscaping improvements. Because of regular wear and tear, the synthetic grass surface on the soccer field was replaced in 2013. Essex County has worked cooperatively with the Down Neck Sports Community Group and SPARK to receive grant funding from the NJ Green Acres program and the Essex County Recreation and Open Space Trust Fund to fund improvements to Riverbank Park.
The Essex County Park System was created in 1895 and is the first county park system in the United States. It has been expanded to include about 6,000 acres of land and includes 20 parks, five reservations, an environmental center, a zoo, ice skating rink, roller skating rink, three public golf courses, golf driving range, miniature golf course, three dog parks, a castle and the Presby Memorial Iris Gardens. Riverbank Park was added to the Essex County Park System in 1907 and designed by the Olmsted Brothers firm. At 10.77 acres, Riverbank is the third smallest park in Essex County's system, but it is one of the most heavily used.