06 Oct

ESSEX COUNTY EXECUTIVE DIVINCENZO ANNOUNCES CONSTRUCTION IS UNDERWAY TO REPLACE ESSEX COUNTY BELLEVILLE PARK PLAYGROUND Essex County is Modernizing Six Playgrounds in 2016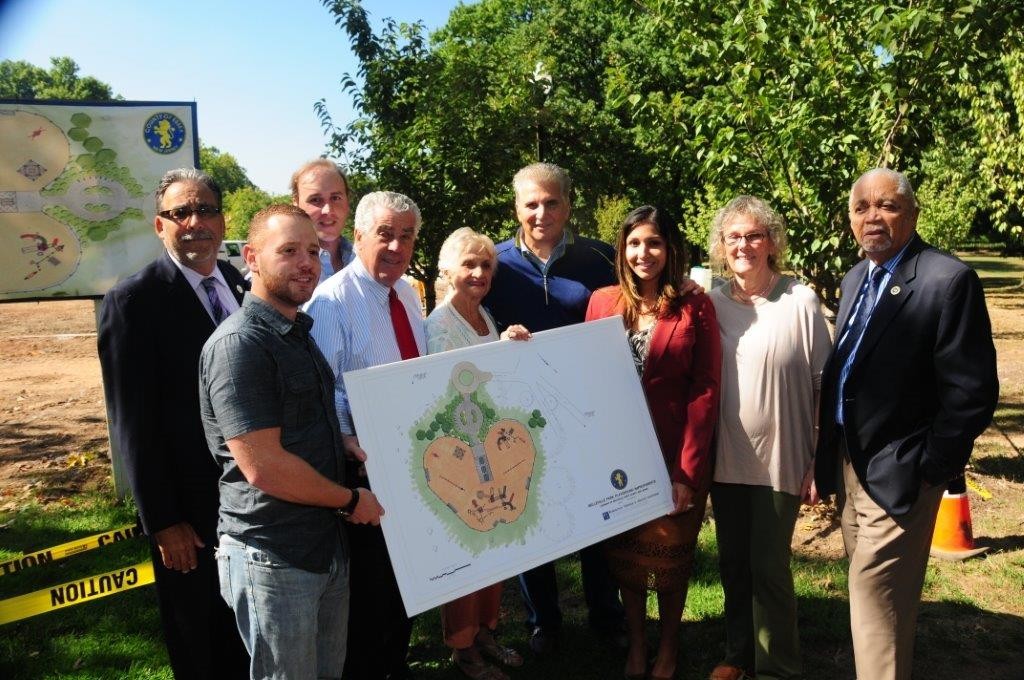 Belleville, NJ – Essex County Executive Joseph N. DiVincenzo, Jr. announced on Thursday, October 6th that construction to upgrade the playground in Essex County Belleville Park in Belleville was underway. The project is part of the County Executive's initiative to provide modern recreation facilities throughout the Essex County Parks System. The Belleville Park Playground is the sixth playground this year that Essex County is renovating.
"Having safe and up-to-date playgrounds assist with the development of our youth and are essential to providing meaningful recreation opportunities for our children. Playgrounds are places where they form friendships, get exercise and enjoy the outdoors," DiVincenzo said.
The original playground was installed in 2005 and was showing signs of wear and tear from regular use. The old equipment and safety surface were completely removed and are being replaced with new, modern apparatus and a new rubberized safety surface. The new facility will have swings and a variety of apparatus to climb and slide on for ages 2 to 5 and 5 to 12, as well as swings and a cargo net climber. The butterfly theme that was incorporated into the old playground is being preserved in the new design with the playground surface being built in the shape of a butterfly. New brick-paved pathways leading to the playground will be installed as well as park benches and trash receptacles.
"Upgrading playgrounds to modern standards provides suitable recreation opportunities for our young people. We promise to keep this park, and all the facilities in the Essex County Parks System, as safe and pristine as possible," Sheriff Armando Fontoura said.
"The County Executive holds a lot of press conferences, but it shows how much hard work the County is doing throughout the year to upgrade parks and deliver superior service," Freeholder Cynthia Toro said. "I like this playground because it is situated in the perfect place that is easily accessible for parents and children. I applaud the County Executive for making sure our children have wonderful, modern places to play," Freeholder Patricia Sebold said. "The improvements being done by the County makes our parks safe havens for children. As a Freeholder, I am proud to partner with the Executive on projects like this," Freeholder Leonard Luciano said.
"The County has always been good to Belleville and building a new playground is another example of that great relationship. We are very grateful for what's being done here," Councilman Vincent Cozzarelli said.
"Redoing the playground in Belleville Park is meaningful to me and to our children. It's what is best for our children. Thank you, Joseph, for doing what is right," Belleville resident Eleanor Guarino said.
Remington and Vernick from Secaucus received a $52,000 contract to design the new playground. Shauger Property Services from East Orange was awarded a publicly bid contract for $875,174 to perform the construction work. The Essex County Department of Public Works is monitoring the project to ensure delays are avoided. The playground is being funded through the Essex County Capital Budget and with grants from the NJ Green Acres program and the Essex County Recreation and Open Space Trust Fund. Work stared in September and is scheduled to be completed by December 2016.
The other playgrounds that have been modernized by Essex County in 2016 are in Essex County West Side Park, Essex County Independence Park and Essex County Riverbank Park in Newark; Essex County Irvington Park in Irvington and Essex County Monte Irvin Orange Park in Orange.
Revitalizing Essex County Belleville Park
The senior building received a facelift in 2014 as part of a $354,972 project. In 2005, a new restroom building was constructed in the park along with the original playground as part of a $948,914 project funded with grants from the NJ Green Acres Program and the Essex County Recreation and Open Space Trust Fund.
The Essex County Park System was created in 1895 and is the first county park system established in the United States. The Park System consists of more than 6,000 acres and has 22 parks, five reservations, an environmental center, a zoo, Treetop Adventure Course, ice skating rink, roller skating rink, three public golf courses, golf driving range, two miniature golf courses, three off-leash dog facilities, a castle and the Presby Memorial Iris Gardens. At 32.7 acres, Belleville Park is the eighth-largest park in Essex County's system. Land for the park was purchased in 1915 and construction of the park was completed in 1922.