29 Jul

ESSEX COUNTY EXECUTIVE DIVINCENZO ANNOUNCES COMPLETION OF PROJECT TO MODERNIZE ESSEX COUNTY RIVERBANK PARK PLAYGROUND Riverbank Facility is First of Five Playgrounds to be Upgraded this Year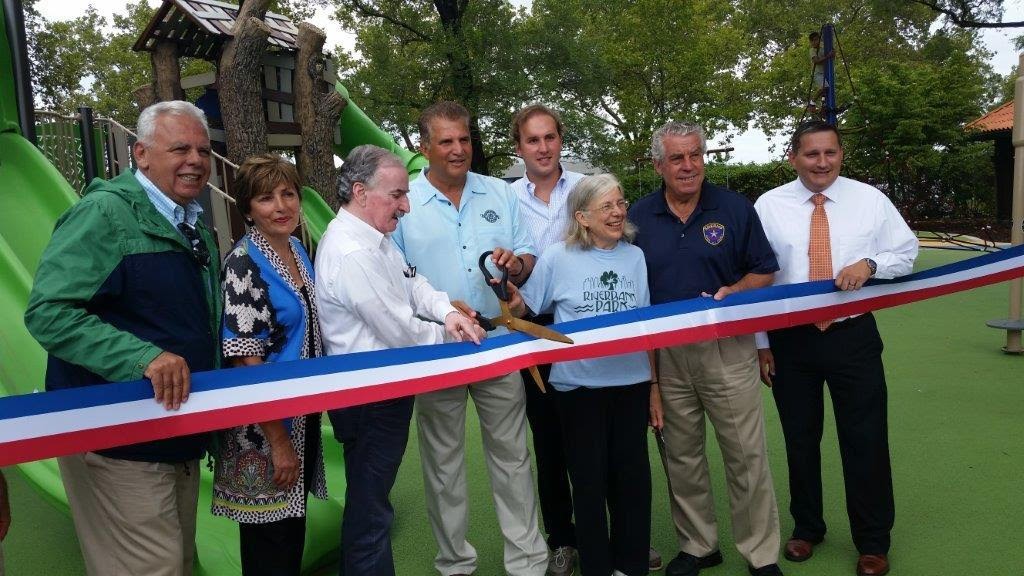 Newark, NJ – Essex County Executive Joseph N. DiVincenzo, Jr. announced on Friday, July 29th that the modernization of the playground in Essex County Riverbank Park is complete. This project is part of the County Executive's ongoing initiative to modernize recreation facilities throughout the Essex County Parks System and ensure they meet today's needs. This year, five playgrounds are being upgraded; they include Riverbank Park, Independence Park, Irvington Park, West Side Park and Belleville Park.
"For children, the playground is the focal point of the park because it's where they can climb, swing and slide, develop friendships and just have fun. Updating the playground with new equipment and a new surface is important because we have to ensure our facilities provide the safest conditions and challenging recreation opportunities that help our children learn and grow," DiVincenzo said. "We thank the community for working with us and having patience during construction. There never is a good time to close and replace a playground, but the finished product will be enjoyed by children for years to come," he added.
"Essex County Riverbank Park has a playground, soccer field, basketball courts and a baseball field. It's an example of the diversity we have in our parks and of the diversity in our communities. As usual, this is another great project by Joe DiVincenzo that enhances our open space for public use," Sheriff Armando Fontoura said.
"I realize the administration, under the leadership of County Executive DiVincenzo, has a vision for parks and recreation. Because of him, our facilities are probably the best in the state," Freeholder Leonard Luciano said.
"This is a quality improvement and I'm sure the children will enjoy it," Newark East Ward Councilman Augusto Amador said. "I know Joe DiVincenzo, so it doesn't surprise me that this was completed earlier than scheduled," he added.
"It is so exciting that this playground is completed. The children will love this place and are ready to use it," said Nancy Zak of SPARK.
The new playground is designed to connect the Essex County Riverbank Park playground with the nearby Passaic River. The rubberized safety surface is colored blue to symbolize the water and its tan color outline represents the shoreline. The climbing apparatus is designed in the shape of a pirate ship. There are separate play areas and swing sets for children ages 2-5 and 5-12. A new "spray and play" feature is incorporated into the playground so children can play in the water. There is seating areas inside the playground for parents to sit and new landscaping enhances the attractiveness of the area.
Mott MacDonald from Iselin received a professional contract for $61,500 to design the new playground. Tec Con Contractors from East Orange was awarded a publicly bid contract for $849,163 to perform the construction work. The Essex County Department of Public Works answered questions and monitored the project so that delays were avoided. The playground improvements were funded with grants from the NJ Green Acres program and the Essex County Recreation and Open Space Trust Fund and through the Essex County Capital Improvement Budget. Construction started in May and was completed in less than three months – one month ahead of schedule.
 Revitalizing Essex County Riverbank Park
In 2003, Essex County remediated contaminated soil from the park, installed a synthetic surface soccer field and scoreboard, repaired the wrought iron fence and made significant landscaping improvements. Because of regular wear and tear, the synthetic grass surface on the soccer field was replaced in 2013. Essex County has worked cooperatively with the Down Neck Sports Community Group and SPARK to receive grant funding from the NJ Green Acres program and the Essex County Recreation and Open Space Trust Fund to fund improvements to Riverbank Park.
The Essex County Park System was created in 1895 and is the first county park system in the United States. It has been expanded to include about 6,000 acres of land and includes 20 parks, five reservations, an environmental center, a zoo, ice skating rink, roller skating rink, three public golf courses, golf driving range, miniature golf course, three dog parks, a castle and the Presby Memorial Iris Gardens. Riverbank Park was added to the Essex County Park System in 1907 and designed by the Olmsted Brothers firm. At 10.77 acres, Riverbank is the third smallest park in Essex County's system, but it is one of the most heavily used.