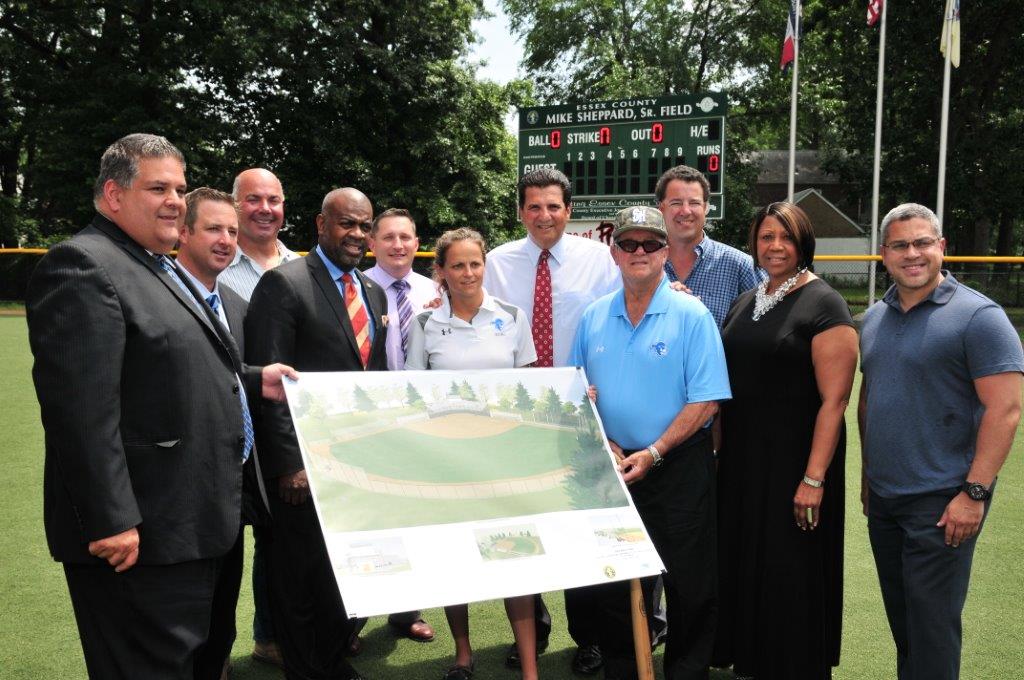 13 Jul

ESSEX COUNTY EXECUTIVE DIVINCENZO ANNOUNCES $2 MILLION IN PROJECTS TO UPGRADE SOFTBALL/LITTLE LEAGUE FIELD AND TENNIS COURTS IN ESSEX COUNTY IVY HILL PARK Essex County Continues Partnership with Seton Hall University to Modernize Softball/Little League Field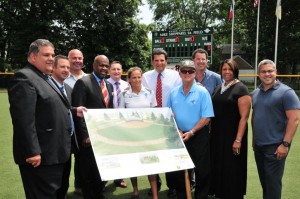 Newark, NJ – Essex County Executive Joseph N. DiVincenzo, Jr. announced two projects totaling almost $2 million to upgrade a softball/little league field and four tennis courts in Essex County Ivy Hill Park on Monday, July 13th. The County Executive noted that the improvements to the Mike Sheppard, Sr. Field are being conducted through a partnership with Seton Hall University.
"Providing first-class recreation facilities and making sure our parks and open spaces continue to meet the needs of the community have been initiatives of my administration since day one. The work we are doing at the tennis courts and softball/little league field are the latest phases to revitalize Ivy Hill Park," DiVincenzo said. "Essex County and Seton Hall University have enjoyed a long relationship, especially in this park. While our children and residents will enjoy the new facilities, Seton Hall's athletic teams will benefit from the improved playing conditions. We are pleased to be partnering with the University on this latest phase," he added.
"Providing a first-class experience to our student-athletes is a top priority, and our partnership with Essex County will help deliver a modern softball facility and tennis courts that will help us compete for Big East championships while also giving the Essex County community a terrific place to play," Seton Hall University Vice President and Director of Athletics Patrick Lyons said. "The improvements to Mike Sheppard, Sr. Field and the tennis courts will be the latest facility project our department has taken on over the last few years as we continue to show our recruits, fans, students and alumni that Seton Hall University is the perfect place to get a world-class education and compete at the highest level of athletics," he added.
"The improvements being done here create a winning situation for the County, City, community and university. People who use this park everyday can come here to watch a college game or use the field for little league contests," Newark Mayor Ras Baraka said.
"The renovation of these recreation facilities and the relationship with Seton Hall University exposes what goes on in this diverse community. The work being done in Ivy Hill Park will create new opportunities whether you are an athlete at the university or a child learning to play for the first time," Assemblywoman Sheila Oliver said.
Dedicated to legendary Seton Hall University baseball coach Mike Sheppard, Sr. in 2012, the field received its last upgrade in 2005 as part of a project to improve all three fields in the park. Through this project, the field will be completely redone with a new synthetic grass surface; field amenities including distance markers, foul poles and bases; backstop; fencing around the field; bullpen and batting cages; dugout structure; bleachers with a press box and seating capacity of 700; upgrades to the scoreboard; storage building; drainage improvements and extensive landscaping.
Hatch Mott MacDonald from Millburn received a $79,950 contract to design the field improvements. Applied Landscaping Technologies from Montville was awarded a publicly bid contract for $1,467,470 to perform the construction. The Essex County Department of Public Works is monitoring the project so delays can be avoided. The field upgrades are being funded with a contribution from Seton Hall University and funds from the Essex County Capital Budget. Work is scheduled to be completed in September.
The four tennis courts are being completely rebuilt with a new playing surface, surface coating, fencing, nets, lighting, drainage system and trash receptacles. The project was designed in-house by the Department of Public Works, which is also monitoring its progress so delays can be avoided. Sita Construction from New York was awarded a public bid contract for $361,712 to perform the construction. The tennis court reconstruction is being funded through the Essex County Capital Budget. Work is scheduled to be completed in September.
Revitalizing Essex County Ivy Hill Park
An 18-station fitness course, 53 ornamental light poles and a 300-foot long paved pathway in the western section of the park were completed in 2014. The softball/Little League field at the western section of the park was renamed after retired Seton Hall University Baseball Coach Mike Sheppard, Sr. in 2012. A $1.6 million facelift to install a second synthetic surface baseball/softball field, renovate two restroom buildings and enhance pathways and landscaping was completed in 2010. The garden recognizing the four students who were attacked in the Mount Vernon Elementary School playground was dedicated on April 7, 2008. A triangular stone wall – the three sides of the wall symbolizing Terrance Aeriel, Dashon Harvey and Iofemi Hightower who were killed – makes up the center of the garden. On the three outer sides of the garden, trees are planted in groups of three, again to symbolize the three students who lost their lives. A fourth stone wall that is part of the garden is meant to honor the bravery and heroism of Natasha Aeriel, who was seriously wounded during the August 4, 2007 attack. While recovering in the hospital, Natasha Aeriel worked with police to identify the suspects.
The three baseball/softball fields received an extensive $1.1 million overhaul in 2005. One of the fields received a synthetic grass surface, press box, scoreboard and dugout, while the other two fields received new sports fencing. A subsurface drainage system for the entire complex was installed to alleviate flooding. In addition, one existing basketball court near Mount Vernon Place has been replaced with two new basketball courts that are equipped with new lights and players' benches.
In 2003, Essex County spent $105,000 to install a rubberized safety surface in the Ivy Hill playground. The project was part of a $2.5 million initiative by DiVincenzo to upgrade all playgrounds in the Essex County Park System so they met the highest national safety standards.
The Essex County Park System was created in 1895 and is the first county park system established in the United States. The Park System consists of more than 6,000 acres and has 22 parks, five reservations, an environmental center, a zoo, Treetop Adventure Course, ice skating rink, roller skating rink, three public golf courses, golf driving range, two miniature golf courses, three off-leash dog facilities, a castle and the Presby Memorial Iris Gardens. Essex County purchased land for Ivy Hill Park in 1927. At 18.96 acres, the park is the seventh smallest in the Essex County Park System.
Contact:
Anthony Puglisi
973-621-2542
Lauren Shears
973-621-1590