29 Jan

ESSEX COUNTY EXECUTIVE DIVINCENZO AND THE ESSEX COUNTY VOCATIONAL TECHNICAL SCHOOL DISTRICT CELEBRATE ESSEX COUNTY NEWARK TECH CAMPUS DESIGNATION AS A 2015 NATIONAL BLUE RIBBON SCHOOL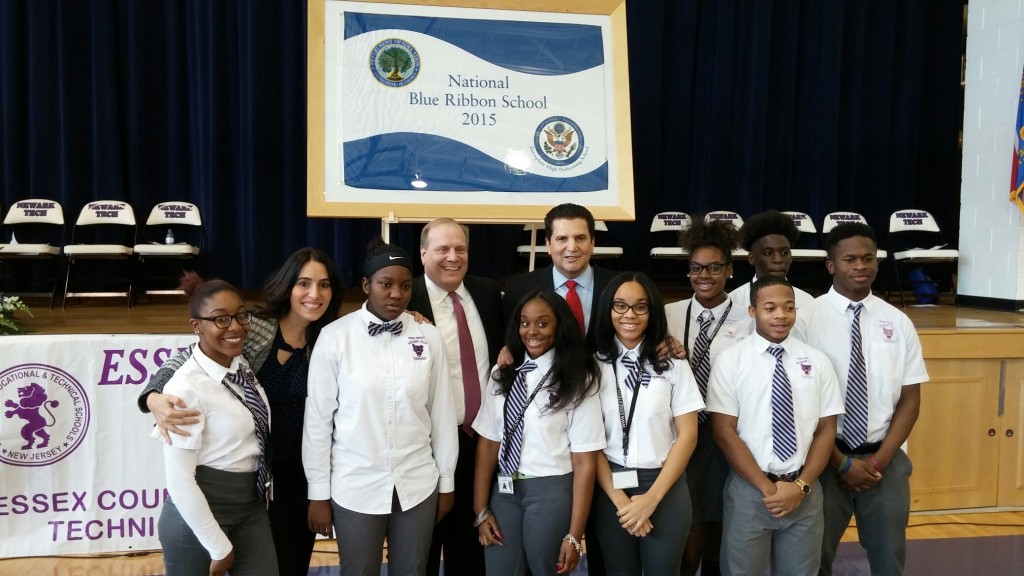 Newark, NJ – Essex County Executive Joseph N. DiVincenzo, Jr. and the Essex County Vocational Technical School District were joined by NJ Education Commissioner David Hespe to celebrate Essex County Newark Tech being named a 2015 National Blue Ribbon School during a spirited school assembly on Friday, January 29th. The Newark Tech Campus was identified as an "Exemplary High Performing" school and was chosen for the coveted recognition because of the overall excellence of student achievement.
In 2015, there were six New Jersey high schools to earn National Blue Ribbon status and two of those recipients were from the Essex County Vocational Technical School District – Essex County Newark Tech and Essex County Bloomfield Tech. In the past six years, the District has received four National Blue Ribbon Awards. Bloomfield Tech received its first in 2009 and its second in 2015, and Newark Tech received its first in 2015 and West Caldwell Tech received its first in 2012.
"I could not be more proud of our students, teachers and staff at our Essex County Vocational Technical School District. To have earned two National Blue Ribbon Awards in one year for both Essex County Newark Tech and Essex County Bloomfield Tech and to have received our fourth national award in the last six years are amazing testaments to our school district's commitment to quality education," DiVincenzo said. "Receiving this prestigious national recognition is evidence of the achievement of our students, the dedication of our teachers and overwhelming support of our school staff," he added.
Hespe put receiving a National Blue Ribbon Award in perspective, comparing it to winning the Super Bowl. "What you have achieved, few other schools will," the Commissioner said. "You have demonstrated that you stand out and this county has demonstrated a commitment to its schools like no other county has. I am proud to be in a county where so much emphasis is placed on students succeeding," he added.
NJ State Senator Teresa Ruiz noted that each month a student is selected to receive an Essex County Teamwork Award that highlights their achievements. "This school – and the schools in the Votech District – are breaking the mold and changing the dynamic. It is always inspiring and rewarding to learn about our students accomplishments and hear their stories," she said. "Essex County will be a great place because of the legacy you are leaving," the Senator added.
"The primary goals of public education are to provide our students with a nurturing environment, a foundation for learning and opportunities to explore and grow. Earning the National Blue Ribbon Award for the first time at Newark Tech – and for the fourth time in the past six years for the school district – makes it apparent that we are fulfilling our mission," Essex County Vocational Technical Schools Superintendent Dr. James Pedersen said.
"Newark Tech is Power" because of the pride and achievement of the students, Newark Tech Senior Lavee Johnson said. "Our power is magnified as we raise this Blue Ribbon banner, which will be a constant reminder of our success and that we have to continue to strive for more. We are bridging the gap between the achievement divide between suburban and urban schools, and showing the world we can succeed," she added.
Schools receiving a National Blue Ribbon Award that are identified as "Exemplary High Performing" schools have their state's highest high school graduation rates and the highest achieving students (the top 15%) in English and mathematics as measured by state assessments. Newark Tech students earned a 98.8 percent proficiency in Math and 99.4 percent proficiency in Language Arts according to results achieved on the 2014 High School Proficiency Assessment. In addition, Newark Tech was recognized by the NJ State Department of Education as a Title I Distinguished school in 2013 and was categorized as a High Performing Reward School in 2014 and 2016.
Newark Tech also was recognized by U.S. News and World Report Magazine as one of America's Best High Schools, was designated as a Title One Distinguished School and was listed among the top 25 Career and Educational Technical Schools in the United States by the National Association for Career and Technical Education Directors. In addition, the school boasts a 96 percent graduation rate with 87 percent of the students continuing their education at a four-year or two-year institution.
Other dignitaries commended the Essex County Vocational Technical School District on its achievement.
"I enjoy visiting this school because I'm always excited by what I see here," Essex County Deputy Chief of Staff William Payne said. Addressing the students, he added, "Take ownership of what you have done because you are our future. Continue believing that you will succeed and you will succeed."
"I have been a principal and superintendent in other school districts and I have been chasing a Blue Ribbon Award for over 30 years. I am honored and proud to have been working for this district when you received this prized recognition," former Interim Superintendent Frank Cocchiola said. "I believe power in pride empowers you to do great things. That's exactly what this district has done," he pointed out.
"The Blue Ribbon Award is a well-deserved recognition for a dynamic school with a long history of positive student outcomes," Essex County Executive Superintendent Joe Zarra said.
With an enrollment of 747 students, Newark Tech encourages students to pursue educational excellence by infusing 21st century technology into teaching and learning. In its student-centered learning environment, students receive hands-on, real world experiences in their Academic and Career and Technical Education programs (including Engineering, Robotics, Allied Health, Business, Auto Technology, Music Production, and Manufacturing). An innovative addition to the school is the Technology Enhanced Active Learning (TEAL) Center, a technology enriched, flexible classroom that has five zones where students will learn from on-line, small group and teacher facilitated instruction throughout the day. Students who participate in the TEAL Center curriculum are eligible to receive credit from Essex County College if they successfully pass the class. Students also have opportunities in a variety of co-curricular activities, including athletics, student government, the arts, and community service. Achievements in this area have resulted in state championship trophies from basketball to track and field, and awards in Robotics and Debate competitions.
A separate ceremony to celebrate the second National Blue Ribbon Award received by Essex County Bloomfield Tech Campus will be scheduled at a later date.
The Essex County Vocational Technical School District is New Jersey's first Vocational Technical School System. Created in 1914, the school system provides both occupational and academic instruction for high school and adult students in the Essex County region. The district has four high schools: Bloomfield Tech, Newark Tech, North 13th Street Tech and West Caldwell Tech. In addition, the system provides adult programs in the evening at Newark Tech. The district has an enrollment of about 2,200 students and provides high level state-of-the-art occupational skill development and academic opportunities in over 25 career areas.