14 Mar

ESSEX COUNTY EXECUTIVE DIVINCENZO AND THE ESSEX COUNTY VOCATIONAL TECHNICAL SCHOOL BOARD ANNOUNCE GROUNDBREAKING FOR THE NEW ESSEX COUNTY CONGRESSMAN DONALD M. PAYNE, SR. VOCATIONAL TECHNICAL SCHOOL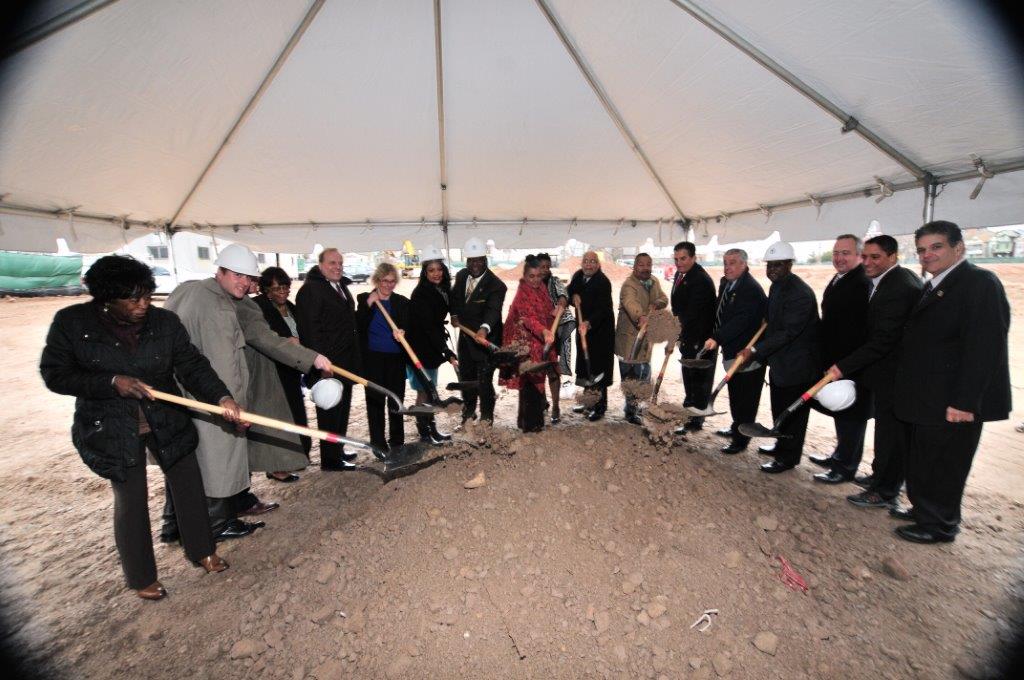 Newark, NJ – Essex County Executive Joseph N. DiVincenzo, Jr. and the Essex County Vocational Technical School Board announced the groundbreaking of the new Essex County Congressman Donald M. Payne, Sr. Vocational Technical School in Newark on Monday, March 14th. The 310,000 square foot building being constructed on the site of the former United Hospital will provide a modern learning environment that will enable the school district to offer curriculum and fields of study in emerging professions.
"The fact that our school district has received four National Blue Ribbon Awards in the last six years demonstrates the high level of achievement by our students and the ongoing commitment to excellence by our teachers and staff. Their achievements are even more impressive because the classrooms where are students are preparing for the future were developed in the past, and it has been difficult adapting our changing curriculum to our antiquated buildings," DiVincenzo said. "As County Executive, I am proud to be able to find the resources that will enable us to build a state-of-the-art academic campus that will provide our students the opportunity to receive a first-class education and foundation that will benefit them the rest of their lives," he added.
"Governor Christie, Commissioner Hespe and their staff at the Department of Education have been instrumental in helping us make this new school a reality. This partnership demonstrates what can be accomplished when multiple levels of government work together," the County Executive said. "It is an honor for us to name our new building after the late Congressman Donald Payne. He was a tireless advocate for Essex County and New Jersey, and providing a solid future for our children was always important to him. I can think of no better way to remember his legacy than naming this campus for him," he noted.
Congressman Donald Payne, Jr., who as accompanied by his sisters Wanda and Nicole, was emotional as he talked about the building being named for his father, the late Congressman Donald Payne. "He was a teacher first and, as a father, was supportive of what we wanted to do. My sisters became educators like him and I followed him into public service. Why wouldn't you want to emulate him and fight for the things he did," he said. "To have this school named in his honor, he would have been overwhelmed with joy. Nothing meant more to him than the education of young people and preparing them for their future," the Congressman said.
"I can't think of a more fitting tribute to my brother, who started out as an educator at South Side High School," Essex County Deputy Chief of Staff William Payne said. "The students who will enter this school will have the opportunity to become what Donald Payne became. They can follow what he did to bring peace and uplift the downtrodden. Education was important to him because it could lead to a brighter future," he noted.
"There is nothing more important than when a community makes the commitment to build a new school – it symbolizes a commitment to the future through the education of their children," NJ Education Commissioner David Hespe said. "When this building opens, it will have the capability of helping students achieve their dreams and aspirations," he added.
"This is such an exciting time to be part of the Essex County Vocational Technical School District. The construction of the new Donald Payne School will give us the kind of space we need to offer classes that will prepare our students for the competitive and changing job market," Essex County Vocational Technical Schools Superintendent Dr. Jim Pedersen said. "Our district has such a great reputation of providing our students with a strong academic foundation. I want to thank the County Executive and Governor for providing our district with the resources so that we can continue this legacy for generations to come," he pointed out.
The new school campus will be located at the intersection of West Market Street and Ninth Avenue in the West Ward of Newark. The three-story building will have traditional classrooms for core curriculum subjects such as history, English, mathematics and science as well as specially designed spaces for career training classes including culinary arts, carpentry, plumbing and electrical systems as well as emerging professions such as green energy, information technology, television and radio, cyber security and public safety. For example, the building trades will share a two-story, common learning area. The unique setting will enable the students to simulate a major construction project, learn how the trades interact and provide ample space for larger projects. The culinary arts area will include traditional kitchen space, but also a restaurant area and storefront where the public can sample students' creations. Students studying green energy will have access to a "green" roof, solar panels and greenhouse.
In addition, the school will have an auditorium to seat upwards of 800 students and two gymnasiums – one gym would accommodate sporting events while the auxiliary gym would be ideal for physical education classes. On the western side of the campus, would be an outdoor amphitheater and passive park area. An underground parking garage would be built beneath the amphitheater for faculty and staff parking.
Elected officials and community leaders said the school will become a great anchor in the community looked forward to its opening.
"I would not have missed this day for anything. Today we are seeing an idea become a tangible building that will educate future generations of students," NJ State Senator and Essex County Deputy Chief of Staff Teresa Ruiz said. "The school will transform a neglected piece of property into a beautiful school campus that will offers hope to the neighborhood," she added.
"The development of this school will definitely improve this community and make the neighborhood completely different. The school will be twice as better than the classrooms our students are currently using," Newark Mayor Ras Baraka said. "It is appropriate that this school be named after one of our heroes and that these students learn who Donald Payne was," he added.
"As with earlier project, Joe DiVincenzo builds it and we protect it," Sheriff Armando Fontoura said. "Nothing works without public safety. I want the students here to concentrate on coming to school and learning. Working with the Newark Police and Prosecutor's Office, we will concentrate on making the school and community safe," he added.
"This place is like a phoenix rising from the ashes," Essex County Democratic Committee Chairman Leroy Jones said. "Providing a first-class education. Providing a drug and crime-free environment. Developing a project labor agreement and having the experience of the unions working here. These are the things that Congressman Donald Payne stood for. The students here today may not have come across the late Congressman, but they will live under the banner of what he meant to all of us," he pointed out.
"This is such a glorious day because of this project," Freeholder President Britnee Timberlake said. "The new school will be a place for students to learn vocational skills that they need to succeed in life. Furthermore, it will help eradicate blight in the neighborhood," she said.
"This was a blighted area, an eyesore for over 20 years. I am pleased and honored to be a part of this project that will have a profound impact on the neighborhood," Newark West Ward Councilman Joe McCallum said. "Donald Payne is a personal role model for me. I am honored to have a building named after him in my ward," he pointed out.
The Payne School will have a student body of about 1,100 students. These students will come from the Essex County Bloomfield Tech Campus in Bloomfield and the Essex County North 13th Street Campus in Newark. Both of those buildings were constructed in 1929 and, although they well-maintained, it has been difficult and costly to retrofit classrooms to accommodate new curriculum. The District plans to sell those two buildings and use the sale revenue to offset the construction cost of the new facility.
DiCara, Rubino Architects from Wayne received a $4,239,995 contract to design the Payne School. Dobco, Inc. from Wayne was awarded a publicly bid contract for $96,159,000 to construct the school. Joseph Jingoli & Son, Inc. from Lawrenceville was awarded a $1,640,644 contract to provide construction management services to answer questions and ensure delays are avoided. The construction is being funded through the Essex County Vocational Technical Schools' Capital Budget with 90 percent of the costs being reimbursed by the State of New Jersey. The other 10 percent is anticipated to be funded with the proceeds from the sale of Bloomfield Tech and North 13th Street School. The school is scheduled to be opened by September 2018.
The Essex County Vocational Technical School District is New Jersey's first and one of its largest Vocational Technical School Systems. Created in 1914, the school system provides both occupational and academic instruction for high school and adult students in Essex County. The district has four high schools: Bloomfield Tech, Newark Tech, North 13th Street Tech and West Caldwell Tech. In addition, the system provides adult programs in the evening at its Adult Training Center at Newark Tech. The district has an enrollment of approximately 2,200 students and provides high level state-of-the-art career skill development and academic opportunities in over 25 occupational areas. For more information on Essex County's Vocational Technical Schools, visit www.essextech.org.