18 May

ESSEX COUNTY EXECUTIVE DIVINCENZO AND THE DIVISION OF SENIOR SERVICES CELEBRATE ESSEX COUNTY'S 9th ANNUAL OLDER AMERICAN HERITAGE MONTH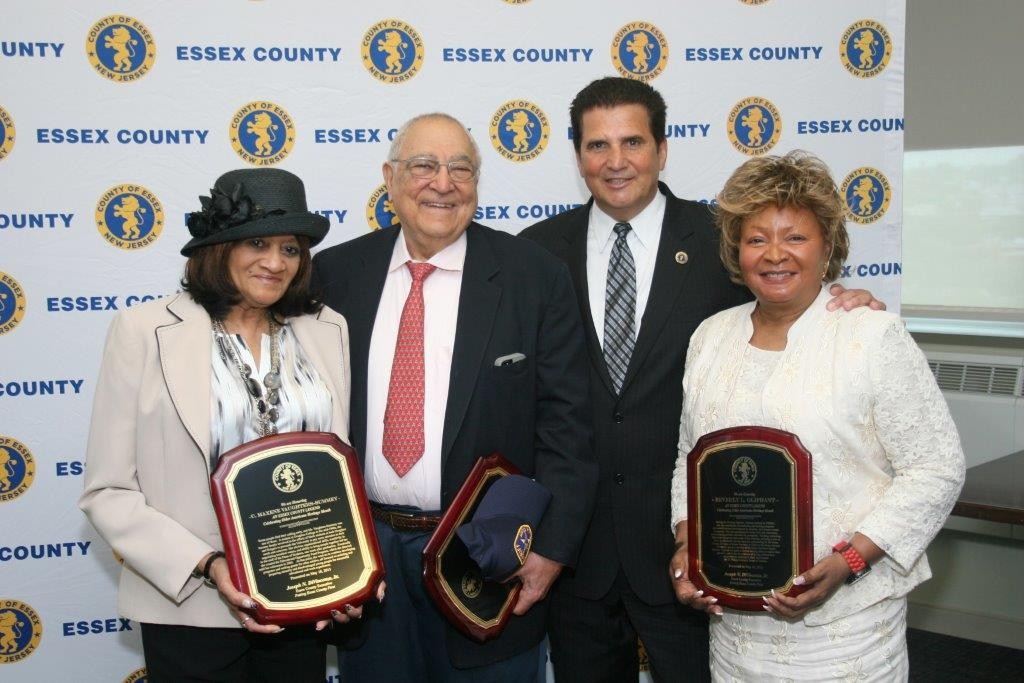 Newark, NJ – Essex County Executive Joseph N. DiVincenzo, Jr. and the Essex County Division of Senior Services hosted the Ninth Annual Essex County Older Americans Heritage Month Celebration on  Monday, May 18th in the Essex County LeRoy F. Smith, Jr. Public Safety Building in Newark. May is recognized as National Older Americans Month.
During the ceremony, DiVincenzo presented Essex County Legends Awards to the following Essex County senior citizens:
West Orange resident Beverly L. Oliphant, a retired PSE&G employee who has volunteered her time as the editor of the Essex Advisor, an Essex County newsletter that provides news and information for older adults, and as a member of the Essex County Senior Citizens' Advisory Board.
Essex Fells resident Dr. Leon G. Smith, a well-known and respected specialist in the study and treatment of infectious diseases, the Founder of The Smith Infectious Diseases Foundation and continues to practice at St. Michael's Medical Center in Newark.
Montclair resident C. Maxene Vaughters-Summey, who developed the Educational Opportunity Fund program at Douglass College and served as its President for over 30 years until she retired in 2003. In her retirement, she returned to Rutgers University to work on a variety of youth development initiatives.
"Older Americans Month is an opportunity for us to recognize the tremendous contributions our senior citizens have made to shape and mold today's community, and bring attention to the contributions they continue to make on a daily basis to improve our quality of life. Active in all aspects of life, our senior population is proving that you don't slow down after you reach a certain age," DiVincenzo said. "Our honorees have exhibited a tremendous amount of responsibility by advocating for and providing assistance that is helping their fellow seniors to remain active and continue living in our community," he added.
"It is a privilege to celebrate this month as Older Americans Month in Essex County," Freeholder Patricia Sebold said. "The three award winners have done so much in their lifetimes that it's an honor to recognize them today," she said.
"I want to congratulate the honorees. Our seniors are very important people and it's important to show our respect, especially when they continue to give back to much to the community," Freeholder Wayne Richardson said.
"I have a wonderful feeling about these three people we are honoring today. I always talk about the achievements of our students, but on the other end of the spectrum are seniors like these who have done so much and continue to contribute," Essex County Deputy Chief of Staff William Payne said.
The award winners were nominated by social service agencies and community organizations that work closely with the Essex Division of Senior Services and were chosen because they are positive role models for the younger generation, have worked tirelessly to assist fellow seniors and made tremendous contributions to improve the quality of life. The honorees are as follows:
West Orange resident Beverly L. Oliphant enjoyed a 37-year professional career at PSE&G before retiring in 2004. Starting as a Bill Clerk, Ms. Oliphant worked her way up the corporate ladder to become in charge of Supply Chain Management New Process Development. While at PSE&G, she was responsible for marketing and tracking business opportunities at PSE&G to minority- and women-owned vendors and for co-chairing the "School to Work Project," in which the energy company partnered with the NJ Department of Education and several public school districts to prepare students for the workforce. Ms. Oliphant has been involved in a variety roles in which she has targeted the development of students, including serving as a member of the St. Philip's Academy Board of Trustees, a member of the Morton Street School Tutorial Program and Ready Foundation Mentoring Program, created an after school program at University Middle School and participated in the Junior Achievement Economic Development Program and the Future Business Leaders of America. Ms. Oliphant also has a close relationship with the Essex County Division of Senior Services, volunteering as a member of its Senior Citizen Advisory Committee and as Editor of the Essex Advisor, a newsletter providing information to older adults about the Division. Oliphant took some time to lobby for additional funding for senior transportation programs since current funding sources from casino revenue have been declining in recent years. "I will let the work I do speak for me. It's all about helping the people we serve and I love what I do," Oliphant said.
Essex Fells resident Dr. Leon G. Smith has had an over 50-year relationship with St. Michael's Medical Center in Newark and is recognized as a pre-eminent specialist in treating and researching infectious diseases. When he was a young boy, Dr. Smith's father died from Graves disease, and it was the inability of his doctors at the time to reach a diagnosis that inspired Dr. Smith to become a physician. At St. Michael's, he created the first inner-city medical clinic, the first HIV/AIDS clinic in New Jersey (and the second in the nation), and clinics for hepatitis, leprosy and "fevers of unknown origin." Through his Smith Infectious Disease Foundation, Dr. Smith's "fevers of unknown origin" clinic remains a beacon for physicians from throughout the world who are seeking answers to medical dilemmas. Dr. Smith founded and was Chairman of the Residency Program in Internal Medicine at Seton Hall University School of Graduate Medical Education, and is Co-Chair of the Bio-Terrorism Task Force for New Jersey. He is Past President of the National Foundation of Infectious Diseases and has received numerous awards for his contributions to his medical field. "After college, I expected to work in Newark for a year, but I stayed for more than a half century because there are many great people in Newark and I fell in love with the people here," Dr. Smith said.
Montclair resident C. Maxene Vaughters-Summey entered Douglass College in 1966 as a freshman student and did not leave until after serving the school as an administrator for 33 years. While a student, Ms. Vaughters-Summey was involved in several grassroots initiatives to improve race relations and persuade the University to become more responsive to the needs of minority students. She was a founding member of the Douglass Black Student Congress, served as its second president and was its chief spokesperson and negotiator when it presented its demands to the University administration. In the spring of her senior year, Dean Margery Foster offered her the position of Special Assistant to the Dean for Equal Opportunity Programs – a position she assumed one week after her graduation. Ms. Vaughters-Summey became responsible for the Educational Foundations Program which provided support services to minority students and later created the Educational Opportunity Fund at Douglass, which she directed until her retirement. She continued to be an advocate for minority and disadvantaged students and helped establish the Douglass Black Alumnae Network. After her retirement, she worked at other schools as an advisor, teacher, grants writer and curriculum specialist. "I never expected to become a student leader or to land a job in the dean's office, but I discovered a path for myself," Ms. Vaughters-Summey said. "Just having the opportunity to tough young people's lives and see them develop into today's leaders is a great honor," she added.
"Our older Americans helped shape our Country, State and County, and they have so much more to give. Americans are living longer, healthier lives and continue to make positive contributions in all aspects of life. We can all learn from them," Essex County Director of Citizen Services Anibal Ramos said. "Today's celebration is our opportunity to thank Older Americans for all they have done and to encourage them to stay involved in our communities," he added.
"A growing percentage of Essex County's population is over 65, and our challenge is providing the appropriate level of care for our aging grandparents, parents and loved ones," said Essex County Division of Senior Services Director Jaklyn DeVore. "All of our Older American honorees are active in their communities and have taken responsibility for assisting other seniors. They serve as role models for our youth," she added.
The Essex County Older Americans Heritage Month Celebration is part of a yearlong series of programs initiated by County Executive DiVincenzo to recognize and celebrate the diversity of Essex County. Other cultural celebrations celebrate African American Heritage, Irish Heritage, Italian Heritage, Jewish Heritage, Latino Heritage, Portuguese Heritage and Women's History.
The Essex County Division of Senior Services offers a wide range of services to eligible Essex County senior citizens. The Division offers adult protective services, provides basic transportation services, administers adult day care centers, offers counseling services, provides home delivered meals and offers visiting nurse services. For more information, please call the Division of Senior Services at 973-395-8375.
Contact:
Anthony Puglisi
973-621-2542
Lauren Shears
973-621-1590