07 Aug

ESSEX COUNTY EXECUTIVE DIVINCENZO AND SOUTH MOUNTAIN CONSERVANCY UNVEIL THREE NEW ART INSTALLATIONS AT WILDFLOWER SCULPTURE PARK IN ESSEX COUNTY SOUTH MOUNTAIN RESERVATION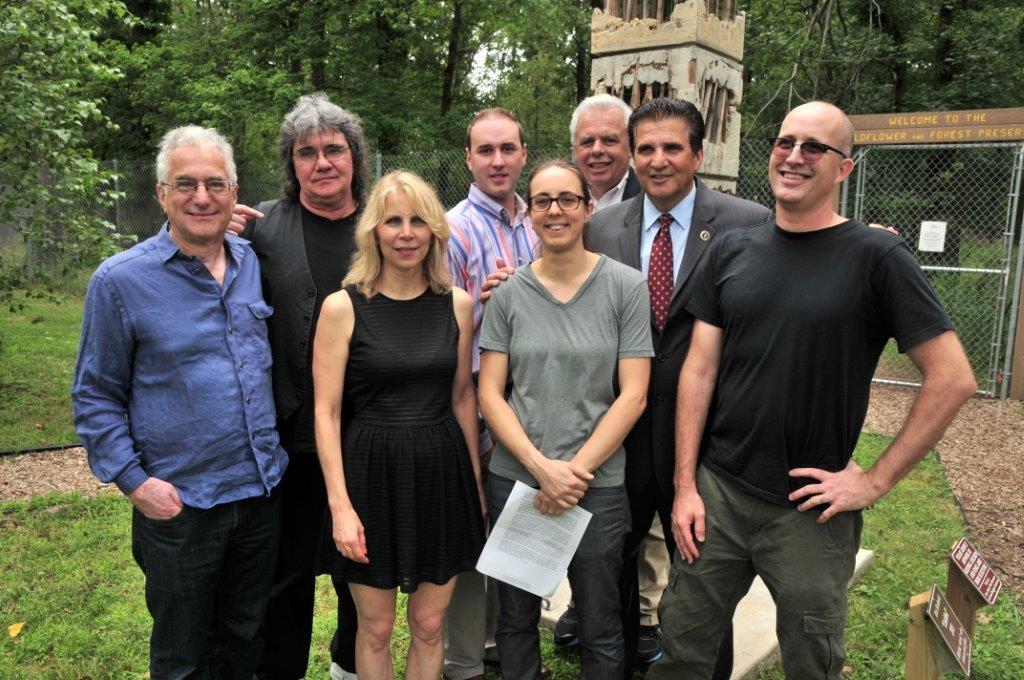 'Nature's Resolve' to Remain as a Permanent InstallationMaplewood/Millburn, NJ – On Wednesday, August 7th, Essex County Executive Joseph N. DiVincenzo, Jr. and the South Mountain Conservancy unveiled five new outdoor sculptures in the Wildflower Sculpture Park in Essex County South Mountain Reservation and announced the original sculpture installed last year will remain as a permanent installation. Inaugurated last year, the Wildflower Sculpture Park is a collaborative initiative by the Essex County Department of Parks, Recreation and Cultural Affairs and the South Mountain Conservancy to introduce art into the landscape of the Reservation.
"Essex County South Mountain Reservation is a beautiful destination with spectacular skyline views, stunning vistas and gorgeous natural backdrops. The inspirational and thought-provoking nature of the artwork, combined with the environment and natural setting, will offer breathtaking and dramatic scenes for park visitors to enjoy," DiVincenzo said. "We are pleased to be partnering with the South Mountain Conservancy to raise awareness about ourreservation and to expand the art park. The art installations on displayhere will provide visitors with a new reason to enjoy our open spaceresources and help unite the disciplines of art and nature," he added.
"These four sculptors have transformed this area of the reservation into acorner of inspiration. Working over 70 feet up in the trees or on the groundwith concrete, wood and found objects, these artists have captured sky,earth, terror, whimsy and intrigue.  The dialogue created between the woodsand art is their attempt to connect with nature and reflect intellectuallyas well as spiritually," said South Mountain Conservancy member TriciaZimic, who serves as curator of the Wildflower Sculpture Park.
An open call for artists to submit ideas was conducted and three artistswere selected. They are as follows:Jersey City resident Michelle Vitale Loughlin created "Tornado," a 24-foottall and 18-foot wide arrangement of nylon rope. It is intended for thesculpture to collect leaves and other material as it stands in thereservation. The piece is considered an ongoing project, and the artist willdocument changes that occur to the sculpture as time progresses. Loughlinwas inspired to create the piece because of her interest in naturaldisasters and how they can be used as a metaphor for negative things thatoccur in life, such as death, family divorce and other traumas. The artisthas 15 years of experience in education and has created large-scale fiberinstallations for a variety of international venues. Her work has beenfeatured in publications such as Interweave Knits, Embroidery Magazine andSurface Design Journal.
Maplewood resident Eric Beckerich created a 7-foot 6-inch column of stackedcubes made of mortar. The top cube has a simple design that plays with lightand creates shadows. The concept is carried to the other cubes below andallows the composition to become more dynamic and compressed. The finishedpiece shows how a totally abstract object can express the concept of theReservation – boundless nature in a confined space. Beckerich has beencreating small mortar and mixed media sculptures in a box since 2007. He hashad his work on display at the 1978 Arts Center in Maplewood, the Ironworksand Gaelen Galleries in West Orange, and the Maplewood Library, and he hasparticipated in the South Orange-Maplewood Artist's Studio Tour since 2008.
Jersey City resident Roger Sayre and New York resident Charlotte Becketcreated "Don't Sing to Me Anymore, Cicada." This installation was designedspecifically for South Mountain Reservation and features a series ofhammocks strung between two trees and ascending into the treetops. It is ametaphor for the cicada, an insect the sleeps for 17 years, climbs trees,mates and dies singing. Sayre has had solo exhibits at A.M. Richards FineArts in Brooklyn, Carnegie Melon in Pittsburgh and Cooke Contemporary inJersey City. Becket has exhibited her work at RuSalon in Brooklyn, CrispGallery in London, LEAP in Berlin and Taxter and Spengemann in New YorkCity. This is the second site specific installation on which Sayre andBecket have collaborated.
It was also announced that "Nature's Resolve," which was unveiled at theWildflower Sculpture Park in November 2012, would be kept as a permanentinstallation. Created by Larry Dell of East Orange, "Nature's Resolve" isnine and half feet tall and five feet wide. The sculpture is apyramid-shaped work created with branches and tree limbs that are tightlywoven together and painted a metallic aluminum color. The branches and treelimbs used to create the sculpture came down during a snowstorm in October2011. Dell is a sculptor, curator and writer and is a board member at the1978 Maplewood Center for the Arts and City Without Walls in Newark. Hiswork has been exhibited at 1978 Maplewood Arts Center, CWOW, IronworksGallery in Orange and Essex Exposed, to name a few.
The idea behind the Wildflower Sculpture Park was to build on the concept ofthe Wildflower Project, which is a fenced-in area about 14 acres in size.Organized by the South Mountain Conservancy, native plants installed in theenclosed area are protected from deer browsing for food and act as a seedbank for the rest of the reservation. This was done in 2009 in conjunctionwith Essex County's forest regeneration program for South MountainReservation in which 43 enclosures were constructed throughout thereservation to aggressively re-grow native vegetation.