14 Jun

ESSEX COUNTY EXECUTIVE DIVINCENZO AND SOUTH MOUNTAIN CONSERVANCY UNVEIL NEW ART INSTALLATIONS AT WILDFLOWER SCULPTURE PARK IN ESSEX COUNTY SOUTH MOUNTAIN RESERVATION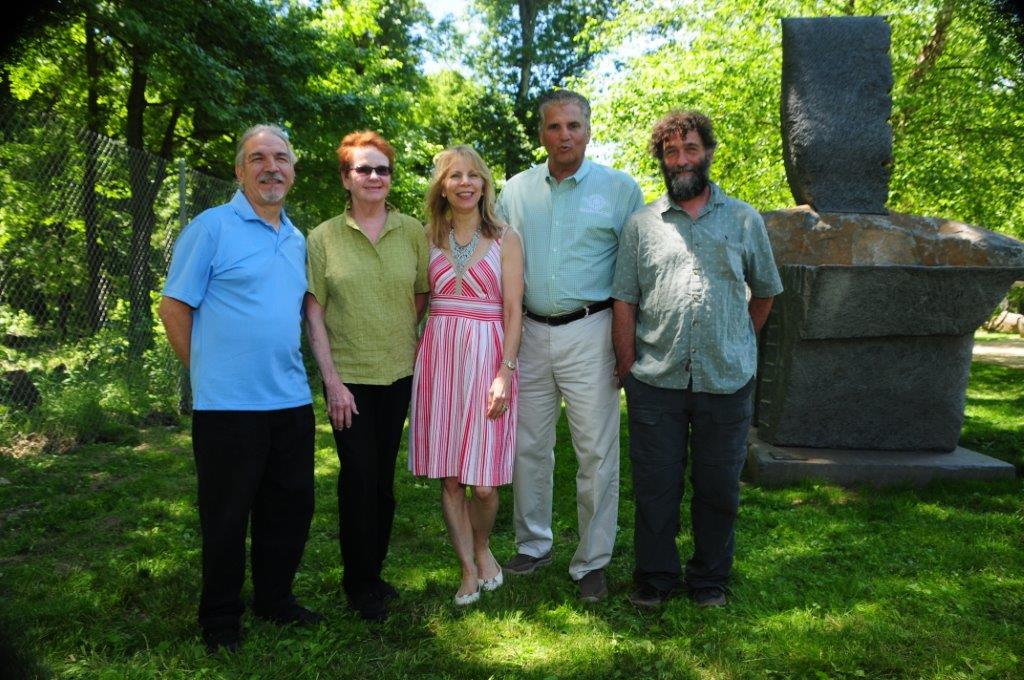 Maplewood/Millburn, NJ – On Tuesday, June 14th, Essex County Executive Joseph N. DiVincenzo, Jr. and the South Mountain Conservancy unveiled new outdoor sculptures in the Wildflower Sculpture Park in Essex County South Mountain Reservation. Inaugurated in 2012, the Wildflower Sculpture Park is a collaborative initiative by the Essex County Department of Parks, Recreation and Cultural Affairs and the South Mountain Conservancy to introduce art into the landscape of the Reservation.
"Essex County South Mountain Reservation is a beautiful destination with spectacular skyline views, stunning vistas and gorgeous natural backdrops. The inspirational and thought-provoking nature of the artwork, combined with the environment and natural setting, will offer breathtaking and dramatic scenes for park visitors to enjoy," DiVincenzo said. "We are pleased to be partnering with the South Mountain Conservancy to raise awareness about our reservation and to expand the art park. The art installations on display here will provide visitors with a new reason to enjoy our open space resources and help unite the disciplines of art and nature," he added.
An open call for artists to submit ideas was conducted and four artists were selected. They are as follows:
Elaine Lorenz created "Spontaneous Generation," which is designed to swarm around and above those who view it. The large pods, or seeds, are constructed of fiberglass and copper wiring, and are hung from vines that are naturally growing in the Wildflower Preserve approaching the Black Willow Pond. The five pods, which range in size from 18 to 30 inches, "originate" from a mound of earth that is about five feet in diameter and three feet tall. The mound is covered in vegetation. The intent of the installation is to "increase feelings of fantasy, joyfulness and awareness" of the reservation. Her artwork has been exhibited around the country, including at the NJ State Museum in Trenton, the Morris Museum in Morristown, Union County College in Cranford, the Newark Museum and Montclair Museum.
Alfredo Cardenas from Montclair created "Primavera 3," which is part of his "Seed Series" that captures the organic flow of plant life. The intention of the carved stone sculpture is to heighten the symbiotic relationship between the artwork and its natural surroundings. Cardenas is a descendent of Spanish-American heritage. His training included studying at the School of Visual Arts, the Arts Student League, the Brooklyn Museum and with master sculptor Jose De Creeft. He also studied in Italy, honing his skills as a master carver and bronze founderyman. He has a Bachelor's Degree in Fine Arts from Pratt Institute and a Master's Degree in Fine Arts from Brooklyn College.
Harry H. Gordon from Lambertville created "Floating Canoe." The granite sculpture was created from scraps found in nearby quarries and weighs a collective 10 tons. Despite its size and weight, the sculpture creates the impression that it is floating. Gordon has been exhibiting his work since 1997 and his most recent exhibition was "Mass Medium," an installation of five large granite sculptures on display on Broadway just south of Times Square. Gordon has been the Curator of the Sculpture Garden at Nexus Properties, Trenton Train Station Plaza, since 1996 and the Assistant Curator of the Clinton Hill Sculpture Park at Pratt Institute in Brooklyn since 1998.
Jim Toia created "Entropic Flow" from 10 fir trees that were knocked down by recent storms. Stretching over 100 feet in length, Toia created a horizontal tree formation that resembles a sinewy animal rather than a plant. A resident of northwest New Jersey, Toia is represented by the Kim Foster Gallery in New York City and the Haines Gallery in San Francisco. His most recent solo exhibitions were at The New Jersey State Museum in Trenton and the Pingry School in Warren, and group exhibitions at the Newark Museum, Lucky Street Gallery in Key West, Fla., and Kim Foster Gallery. He is the recipient of a 2000 New Jersey State Council on the Arts Fellowship and a Geraldine Dodge Foundation Grant.
The idea behind the Wildflower Sculpture Park was to build on the concept of the Wildflower Project, which is a fenced-in area about 14 acres in size. Organized by the South Mountain Conservancy, native plants installed in the enclosed area are protected from deer browsing for food and act as a seed bank for the rest of the reservation. This was done in 2009 in conjunction with Essex County's forest regeneration program for South Mountain Reservation in which 43 enclosures were constructed throughout the reservation to aggressively re-grow native vegetation.