31 May

ESSEX COUNTY EXECUTIVE DIVINCENZO AND INSPECTOR GENERAL SCAGLIONE WELCOME ATTORNEY GENERAL GREWAL, CRIMINAL JUSTICE DIRECTOR ALLENDE AND CHIEF OF THE ATTORNY GENERAL'S OFFICE DIVISION OF CRIMINAL JUSTICE, CORRUPTION BUREAU PICIONE FOR ETHICS IN GOVERNMENT PRESENTATION Seminar is Part of County Executive's Ongoing Initiative to Maintain Integrity and High Standards in County Government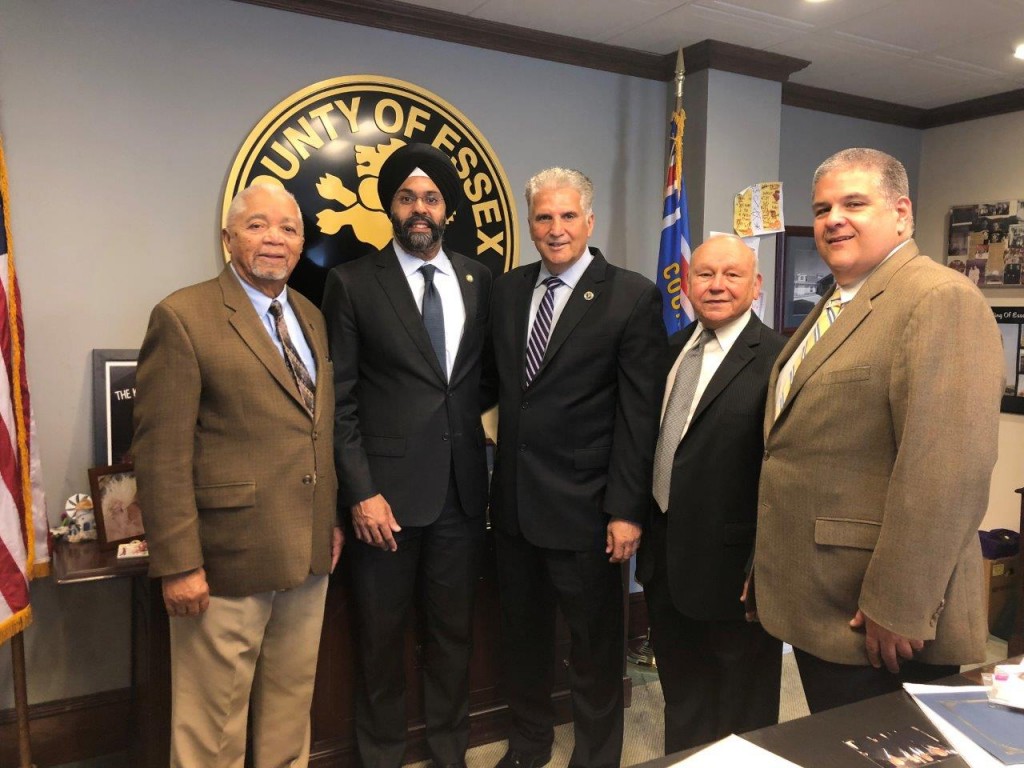 Newark, NJ – On Thursday, May 31st, Essex County Executive Joseph N. DiVincenzo, Jr. and Essex County Inspector General Dominic Scaglione hosted an Ethics in Government Seminar featuring Gurbir S. Grewal, NJ Attorney General; Veronica Allende, Director of the NJ Division of Criminal Justice, and Anthony Picione, Chief of the Attorney General's Office Division of Criminal Justice, Corruption Bureau. The presentation was attended by Essex County Department and Division Directors, Constitutional Officers, representatives of County agencies and boards, and other key staff. It is part of the County Executive's ongoing initiative to maintain high standards of integrity, accountability and fiscal responsibility in County government.
"We are very appreciative of Attorney General Grewal and high-ranking members of his staff addressing our County staff about ethics in government. Their message is a strong reminder of how important it is to serve with integrity and preserve the public's trust in government," DiVincenzo said. "We have accomplished a great deal over the last 16 years to enhance our residents' quality of life and transform Essex County into a model government. We should never rest on our achievements and always must be vigilant to maintain our high standards," he added.
Gurbir S. Grewal was sworn in as New Jersey's 61st Attorney General on January 16, 2018. Since assuming office, Grewal has focused his attention on protecting the interests of New Jersey residents by expanding affirmative litigation, strengthening police-community relations, reducing violent crime and fighting the opioid epidemic. Before becoming NJ Attorney General, Grewal served as Bergen County Prosecutor, where he supervised a staff of 265 personnel and had supervisory authority over approximately 2,700 sworn law enforcement officers. During his tenure, he implemented several creative approaches designed to tackle the heroin and opioid crisis, including "Operation Helping Hand," a program that offers low-level drug offenders treatment options upon arrest. From 2010-2016, Grewal worked as an Assistant U.S. Attorney in the Criminal Division of the U.S. Attorney's Office for the District of New Jersey. Grewal earned a B.A. in Foreign Service from Georgetown University School of Foreign Service in 1995 and obtained his law degree from the College of William and Mary, Marshall-Wythe School of Law in 1999.
Veronica Allende rejoined the Division of Criminal Justice after almost two years at the U.S. Attorney's Office for the District of New Jersey, where she served as an Assistant U.S. Attorney investigating and prosecuting individuals committing a variety of federal crimes, including firearms offenses, child exploitation and white-collar fraud. From 2007-2016, Allende served as a Deputy Attorney General with the Division of Criminal Justice where she first worked in the Gangs & Organized Crime Bureau. Among other responsibilities, Allende served as a member of the Attorney General's Shooting Response Team, where she investigated officer-involved shootings. In 2015, Allende was promoted to Deputy Bureau Chief of the Financial and Computer Crimes Bureau, overseeing the Computer Crimes Unit, which investigates and prosecutes child pornography and other computer-related criminal activities. Before her career in public service, Allende practiced land use and commercial real estate law with Wilentz, Goldman & Spitzer. Allende received her law degree from Seton Hall University School of Law and holds a B.A. in Political Science with a minor in Philosophy from Mount St. Mary's University.
 Anthony Picione is a Deputy Attorney General with the New Jersey Division of Criminal Justice and the Chief of the Division's Corruption Bureau. Picione concentrates on white-collar crime, particularly offences involving public officials and public funds. He is also an instructor for the NJ Attorney General's Advocacy Institute, the Police Training Commission and Adjunct Professor of Trial Advocacy for Rutgers Law School-Camden.
Maintaining High Ethical Standards
When DiVincenzo took office, one of his immediate goals was to make sure County government was operating efficiently, effectively and ethically. One of his first actions as County Executive was to create the Office of the Inspector General to prevent and investigate all illegal, improper or unethical behavior involving the County.
The County Executive's first Executive Order, dated February 23, 2003, expressed his commitment to good government by "ensuring the integrity and honesty of a non-political County government; ensuring the absence of corruption of any kind; ensuring the absence of even the appearance of impropriety; and restoring confidence in County government and raising the morale of its employees."
DiVincenzo created the first functioning Board of Ethics in Essex County history, which created a comprehensive and stringent Code of Ethics for Essex County. Administrative personnel and key staff members have participated in a number of symposiums and seminars about ethics in government. They have been presented by the Essex County Bar Association, former U.S. Attorney Chris Christie, Seton Hall Professor and NJ State Ethics Commission Chairwoman Paula Franzese, former Attorney General Stuart Rabner, former Attorney General Anne Milgram, former FBI Special Agent in Charge Weysan Dun, former U.S. Attorney Paul J. Fishman, former First Assistant U.S. Attorney J. Gilmore "Gil" Childers, former FBI Special Agent in Charge Michael B. Ward, former NJ Comptroller Matthew Boxer, former Attorney General Jeffrey Chiesa, former FBI Special Agent in Charge Aaron T. Ford, former FBI Special Agent in Charge Richard M. Frankel and former Attorney General Chris Porrino. In addition, key County personnel were required to complete a questionnaire about their associations with private businesses. The surveys were reviewed by the Inspector General to make sure conflicts of interest did not exist