16 Nov

ESSEX COUNTY EXECUTIVE DIVINCENZO AND ESSEX COUNTY VOCATIONAL TECHNICAL SCHOOL DISTRICT ANNOUNCE DEMOLITION OF UNITED HOSPITAL COMPLEX IS COMPLETE Essex County Donald M. Payne, Sr. Vocational Technical School Campus to Open in 2018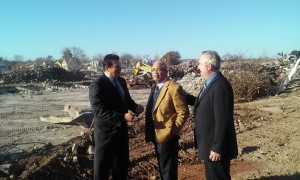 Newark, NJ – Essex County Executive Joseph N. DiVincenzo, Jr. joined with Essex County Vocational Technical Schools Superintendent Dr. James Pedersen on Monday, November 16th to announce that the demolition of the United Hospital complex is completed. Public bids to construct the new Essex County Donald M. Payne, Sr. Vocational Technical School Campus will be released tomorrow, Tuesday, November 17th. Construction is scheduled to start in March 2016 and the school will open in 2018.
 "Demolishing the old United Hospital buildings removes a major eyesore that has plagued this neighborhood for the last 25 years. It's a major step forward in our project to build a new vocational technical school campus for our students," DiVincenzo said. "I am happy about the progress that is being made so quickly and look forward to 2018 when we open this brand new facility," he added.
 "All these old buildings coming down so fast creates a great excitement among our school community for the new building that is coming," Essex County Vocational Technical School District Superintendent Dr. James M. Pedersen said.
 Tricon Enterprises Inc. from Keyport was awarded a $6.9 million contract to raze the buildings on the former hospital campus. Crews began tearing down the structures in June and had all the buildings down in five months. They are now clearing debris and separating metal products from the rubble for recycling.
 The Essex County Donald M. Payne, Sr. Vocational Technical School Campus is named for the late Congressman Donald M. Payne, Sr., who was the first African American Congressman in New Jersey when we he was elected to office in 1989. He served until his passing in 2012. The new school campus will replace the Essex County Bloomfield Tech Campus and the Essex County North 13th Street Tech Campus in Newark, both of which were opened in 1929. These facilities were designed to meet the educational needs of an earlier time, require significant maintenance and are more difficult to adapt to the modern curriculum.
 The Essex County Vocational Technical School District has received four national Blue Ribbon Awards in the last six years: Bloomfield Tech received its first one in 2009 and a second one in 2015 while West Caldwell Tech received one in 2013 and Newark Tech received one in 2015. The District is New Jersey's first and one of its largest Vocational Technical School Systems. Created in 1914, the school system provides both occupational and academic instruction for high school and adult students in Essex County. The district has four high schools: Bloomfield Tech, Newark Tech, North 13th Street Tech and West Caldwell Tech. In addition, the system provides adult programs in the evening at its Adult Training Center at Newark Tech. The district has an enrollment of approximately 2,200 students and provides high level state-of-the-art career skill development and academic opportunities in over 25 occupational areas. For more information on Essex County's Vocational Technical Schools, visit www.essextech.org.