14 Dec

ESSEX COUNTY EXECUTIVE DIVINCENZO AND ESSEX COUNTY SHERIFF FONTOURA ANNOUNCE OPENING OF NEW SHERIFF'S PATROL HEADQUARTERS 8,000-Square-Foot Building Provides Modern and Efficient Accommodations for County Police Patrol Operations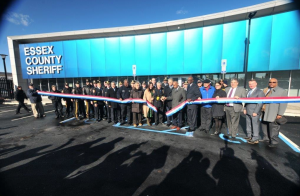 Newark, NJ – Essex County Executive Joseph N. DiVincenzo, Jr. was joined by Essex County Sheriff Armando Fontoura on Thursday, December 14th to announce the opening of the new Sheriff's Patrol Headquarters on Market Street in Newark. Patrol operations will be relocated from the Parks Administration Building across from Branch Brook Park to the modern facility that took just seven months to complete.
"Our officers have been working from the same building for the last 100 years and have simply outgrown their current space. This new police building is a state-of-the-art facility that will help our officers conduct their duties more efficiently and meet the growing demands that are placed on our law enforcement officials," DiVincenzo said. "We want to make sure our Sheriff's Officers have the proper resources to help keep us safe, and this new facility provides the room they need to operate," he added.
"This new and strategically located Patrol Division headquarters will further propel our entire department into 21st century community policing. Community policing is about bringing the police closer to the residents, and this new building will be a focal point for the neighborhood," Fontoura said. "Our great city's West Ward will now have a centrally located precinct that will be fully staffed by our Patrol Division detective bureau and our county-wide traffic bureau. The facility will be fully equipped with all the most modern public safety and crime prevention tools," he added.
Elected officials and police professionals said the building will help law enforcement efforts and will have a positive impact on the surrounding community in Newark's West Ward.
"A true metamorphosis has occurred on this property with the construction of the Donald Payne School and the opening of this police building. The promises that the County Executive has made are becoming reality," NJ State Senator and Deputy Chief of Staff Teresa Ruiz said.
"I know the County Executive has worked tirelessly to make this project happen and we were pleased to transfer ownership of City-owned property to Essex to help with the footprint of the Sheriff's Building and the school next door. I'm happy about this because it fits with our economic development initiatives and will make people in this neighborhood feel safe," Newark Mayor Ras Baraka said.
"Joe, you got this building opened in just one year! You don't know the positive impact that this will have on the community. I am proud to be part of this project," Freeholder Rufus Johnson said. "We are fortunate that our County Executive is always thinking of ways to improve our quality of life, and this will be a tremendous asset to law enforcement," Freeholder Patricia Sebold said. "Public safety is everyone's number one concern, so this will help tremendously," Freeholder Len Luciano said.
"Joe DiVincenzo is the best in the game. He always does what he says and does it with integrity. This has been a blighted area for such a long time and this Sheriff's Building, along with the new vocational school across the street, will help property values go up. You are transforming this neighborhood," Newark West Ward Councilman Joe McCallum said. "This new facility will enhance the progress the City is making to control crime," Newark North Ward Councilman Anibal Ramos said.
"The County Executive has great vision and law enforcement applauds you for providing the resources to help us do our jobs more efficiently," Newark Public Safety Director Anthony Ambrose said.
The Sheriff's Patrol Headquarters is located on the corner of Market Street and Myrtle Avenue in Newark's West Ward, and is across the street from the Essex County Donald M. Payne School of Technology that currently is under construction. The one-story, 8,000-square-foot building is a fully functioning police station with holding cells, locker rooms for officers, a roll call area for officers to gather at the start of their shifts, expanded storage areas for records, evidence and equipment, conference room and offices.
The Patrol Division offices were relocated from the Parks Administration Building at 115 Clifton Avenue in Newark, where they had been housed since the building opened in 1916. The division occupied part of the first floor and basement, and the cramped, out-of-date conditions were not conducive to efficient operations.
Comito Associates from Newark received a $177,500 contract to design the Sheriff's Patrol Headquarters. Aps Contracting from Paterson was awarded a publicly bid contract for $3,585,285 to construct the building. The Essex County Department of Public Works monitored the project to ensure it was completed according to schedule. Construction of the building was funded through the Essex County Capital Budget. It was completed in just seven months, one month ahead of schedule.