27 May

ESSEX COUNTY EXECUTIVE DIVINCENZO AND DIVISION OF SENIOR SERVICES PRESENT AWARDS TO WINNERS OF ANNUAL SENIOR CITIZEN LEGACIES WRITING CONTEST

ESSEX COUNTY EXECUTIVE DIVINCENZO AND DIVISION OF SENIOR SERVICES
PRESENT AWARDS TO WINNERS OF ANNUAL SENIOR CITIZEN LEGACIES WRITING CONTEST
Essex County Senior Citizens Experience the Joys of Writing
by Sharing Anecdotes and Life Stories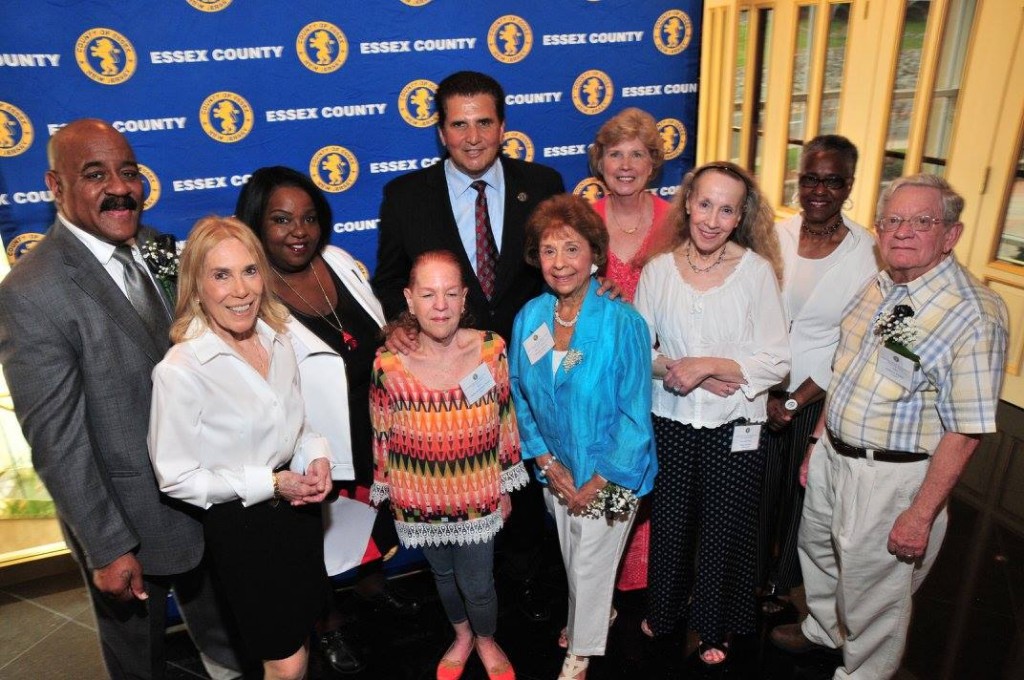 Cedar Grove, NJ – Essex County Executive Joseph N. DiVincenzo, Jr. and the Essex County Division of Senior Services recognized the writing talents of eight Essex County residents during the Annual Essex County Senior Legacies Writing Contest Celebration Luncheon on Wednesday, May 27th. The Legacies Writing Contest encourages Essex senior citizens to write essays about the people and events that have influenced their lives.
"Our Senior Citizen Legacies Writing Contest is a unique way for our older population to share their life's stories and describe the people and events that helped to shape their lives," DiVincenzo said. "Our seniors' stories make you laugh and they touch your heart. They provide us with a different perspective on historical events and what our society was like," he added.
The winning stories were "Freddie's" by East Orange resident Carol T. Jenkins, "A DY in North Carolina" by Caldwell resident Robert S. Kaplan, "How I Met Your Father" by Nutley resident Eleanor Slomkowski and "I'm (Finally) Ready for My Close-Up" by Montclair resident Robin Ehrlichman Woods. Stories receiving honorable mention awards were "Lillie Street Mystery" by Orange resident Clarence Boseman, "Hello, Good-bye" by Cedar Grove resident Peggy LaVake, "The Second Basement" by Cedar Grove resident Rosalie Paddock and "Passover Seder" by Nutley resident Francine Rosman.
"All our seniors have stories to tell, and our Legacies Writing Contest provides our older adults with an incentive to preserve their memories, and create a living history," Essex County Division of Senior Services Director Jaklyn DeVore said. "Writing enables our seniors to share their memories with friends and families, allows them to reminisce about old times, and keeps their minds active. This is one of our most popular events because of the emotions and memories that are evoked," she added.
Carol T. Jenkins from East Orange had her essay, "Freddie's," recognized as one of the winning stories. There was a corner store across the street from the Clinton Hill home where Ms. Jenkins grew up. The store owner was Fred Weisbart, a well-respected and loved man who was friends with many people in the neighborhood. He was very altruistic, extending credit and lending money to those who entered the story. Ms. Jenkins remembers when her block was thrown into chaos on the day that Mr. Weisbart was shot and killed during a robbery. A memorial was held at the store on the last day of Passover, and even though the family was not supposed to attend on the Sabbath they came anyway. "We came because you are all our family and we respect what the neighborhood is doing for us and we wanted to be with you," Mrs. Weisbart said. "Writing this essay is part of a larger project that I am writing so I can leave my legacy to my grandson," Jenkins said. "I am honored and blessed to write these stories and share them with others," she added.
Robert Kaplan from Caldwell was named as one of the winners with his essay titled "A DY in North Carolina." Mr. Kaplan moved from the North to attend the University of North Carolina at Chapel Hill for his graduate studies in urban planning. It was 1960 and the Civil Rights movement was underway. Mr. Kaplan joined a protest to have the Carolina Theater integrated (at the time in only allowed blacks to sit in the balcony). Each night, one black student and one white student picketed in front of the theater. At times they were the recipients of racial slurs and, in the end, the protest had no impact on the theater. To keep morale up, the protesters staged a party for the black and white students, and Mr. Kaplan states that everyone had a good time. In an epilogue to his essay, Mr. Kaplan questions how the protest was started, why more people did not participate and chronicles how the theater and city became desegregated after he left school. "This was a very important time in my life. I've been thinking about this for quite some time and the contest inspired me to write about it," Kaplan said. "It was what I finally needed to do," he added.
Eleanor Slomkowski from Nutley was named one of the winners for her essay titled "How I Met Your Father." Michael was a new student in Ms. Slomkowski's homeroom class at Franklin Junior High School in Nutley. From the day she first saw him, Ms. Slomkowski said he was the man she would marry. Although they did not share any classes, they became friends. One evening riding in his car, Michael was broadsided and Ms. Slomkowski was hospitalized. Although there was a pending lawsuit against Michael, they remained friends and went to the prom and a steady relationship. After high school graduation, they were engaged on Christmas Eve, but their wedding had to wait until Michael returned from serving in Vietnam. Six weeks after he came back, they were married and bought a house with the lawsuit settlement she received. "To this day we joke about the settlement. I tell people he married me for my money. His response is that I wouldn't have had the money if it wasn't for him," she writes. "Life with my husband has not been a typical love story. There has been a lot of comedy in our life," Slomkowski said. "We were always drawn together and the story highlights the important events early in our relationship," she added.
Robin Ehrlichman Woods from Montclair was one of the winning authors with her essay "I'm (Finally) Ready for My Close-up." Cable television personality Ms. Ehrlichman Woods quickly overcame any shyness or lack of self esteem to become a talk show host on her own local program. She has interviewed authors, community activists, musicians, politicians and local eccentrics as well has hosted a telethon for Hurricane Sandy victims, read stories to children and raised money to help underprivileged families remain in their homes. Along the way, her hair styles have changed and she's gotten better at her makeup. Most of all, she is happy that she have found her niche and left a legacy for her family. "It's important to me to prove that I've existed and done something exciting and possibly meaningful to others," she writes. "Other people who have read my story have described it as a story about being brave. It's very interesting to me to see how others interpret my work," Ehrlichman Woods said. "I believe it's important to write and archive things. Sharing makes the past matter and provides evidence that you existed," she said.
Clarence Boseman from Orange received an honorable mention for "Lillie Street Mystery." Mr. Boseman reminisces about growing up on Lillie Street in Newark. The street is only two blocks long, but it holds adventure and is the center of life for those who reside there. As a child, they went trick or treating in the two large apartment buildings, bought hot pretzels from the pretzel factory, went swimming in the Boyd Street Pool and ran on the rooftops, jumping from one building to another. Mr. Boseman's family went to church at Macedonia Baptist Church, which was also on Lillie Street, and watched the train cars roll into the General Electric factory and bring grain for the Kruger beer warehouse. There were bars, a bowling alley and Barney's corner store, where Mr. Boseman worked for several years. Now, none of it can be found on a map or the Internet, leaving Mr. Boseman to question even his existence. "I wrote this story after I realized that everything I grew up with is gone," said Boseman, who had a winning essay in the 2009 contest. "I enjoy the writing contest and wish more people would write. Everybody has a story in them and you have to write to get it out," he added.
Peggy LaVake from Cedar Grove received an honorable mention for "Hello, Good-bye." Ms. LaVake writes that life begins with many "hellos," such as when a baby enters the world and the many things it learns and experiences. As we get older, there are more "good-byes" as neighbors move and friends pass away. She recounts three "good-byes" she has had to make: when her friend Barbara moved to be closer to her family, when her friend and one-time employer Vincent passed away and when a close friend of 20 years suddenly died. Despite all the good-byes, life will continue and "often a Hello that we never expected lifts us up and brings back our sense of emotional balance."  Ms. LaVake has been submitting stories for at least the last five years and "every year I am surprised when my stories are picked," she said. "I like to put on paper what I am thinking. It's the best way for me to express my thoughts," she added.
Rosalie Paddock from Cedar Grove received an honorable mention for "The Second Basement." To help save money for college, Ms. Paddock got a job as a sales girl at Bamberger's in Newark. Her first assignment was in the meat department, but she was embarrassed to wear the big white apron, so they moved her to the lingerie section. She then was assigned to the second basement where they sold "irregular" merchandise. When she saw some sweaters with tape on them, she removed the tape, only to realize that was where the sweater has "pulled" and was flawed. On Thanksgiving, she worked in the parade that was held in downtown Newark. Unfortunately the float on which was riding caught on fire. "All these moments of embarrassment were part of my growing up and helped me mature into a responsible young woman," she writes. "I am really honored to have my story chosen this year. It's really one of the nicest things to happen to me since I have been living in Essex County," Paddock said. "Everyone has a story no matter where they came from. It's important to share if you want people to know about your past," she pointed out.
Francine Rosman from Nutley received an honorable mention for "Passover Seder." Ms. Rosman recalls her family's tradition of spending Passover at her grandparents' flat on Avon Avenue. Located next to the produce store they operated, their residence consisted of a large kitchen, one bedroom and one bathroom. The family always enjoyed a lovely meal and, at the end of the dinner, her uncle would always give her and her sister a special gift. "It was tradition at its finest. I shall always feel comfort in recalling those experiences," she writes.
"You don't have to be a professional writer to participate in our Senior Legacies Writing Contest. Our seniors are very talented and they write from the heart," Essex County Director of Citizen Services Anibal Ramos said. "Every year, I am impressed with the emotion and quality of stories. I congratulate every one for participating," he added.
Introduced to the Senior Legacies Writing Contest Award Ceremony were students from Cicely Tyson School of Performing Arts in East Orange who read the winning stories. Ninth grader Adissa Simpore read "I'm (Finally) Ready for My Close-up," ninth grader Coriyanna Willis read "How I Met Your Father," 10th grader Reva Rutherford read "Freddie's" and 10th grader Arthur McClendon read "A DY in North Carolina."
Sponsored by the Essex County Division of Senior Services, the Legacies Writing Contest was started in 1996 and was part of a national contest which encouraged senior citizens to discover the joys of writing while sharing their stories with others. Although the national contest was discontinued in 1998, the Essex County Division of Senior Services continued to sponsor the Legacies Writing Contest on a local level. Entries are judged on the writer's ability to engage the reader with humor, emotional impact or rich descriptions. Winning stories were selected by a committee of volunteer judges and staff from the Essex County Division of Senior Services. Each of the winners' stories are posted on the Essex County website on the Division of Senior Services webpage at www.essexcountynj.org.
The Essex County Division of Senior Services offers a wide range of services to eligible Essex County senior citizens. The Division offers adult protective services, provides basic transportation services, administers adult day care centers, offers counseling services for caregivers, provides home delivered meals and offers visiting nurse services. For more information, please call 973-395-8375.
Contact:
Anthony Puglisi
973-621-2542
Lauren Shears
973-621-1590